5 Actors Who Could Replace Damon Wayans on 'Lethal Weapon'
On Wednesday, Damon Wayans announced he's going to leave his Fox series Lethal Weapon at the end of the year.
In a candid video interview, the actor said he's over the long days of filming and missing important family moments because of work.
"I am going to be quitting the show in December after we finish the initial 13 [episodes]," Wayans explained. "So I really don't know what [the producers are] planning, but that's what I'm planning."
See Also
The new character has a daughter and ex, who we'll meet in the first episode.
He also cited his age and being diabetic as having contributed to the decision to exit. Instead of this TV gig, Wayans said he wants to take some time off and eventually go back to the stage.
The announcement comes after the cop show aired its second Season 3 episode with new star Seann William Scott, who was brought on board to replace Clayne Crawford, who was fired from the show after complaints of bad behavior on set.
So, if the show does continue, who could replace Wayans? We suggest five actors:
Marlon Wayans
Why not replace one Wayans with another? The two are brothers, have similar acting and comedy styles, and Marlon's even played a cop before — in 2004's White Chicks.
Lamorne Morris
This funny guy not only has small-screen police experience on New Girl, but we also think he'd have great chemistry with Scott, who shares his physical comedy chops.
Taye Diggs
Diggs (Private Practice, Ally McBeal) has mastered roles balancing comedy and drama before, and we bet he'd be great at doing stunts.
Gabrielle Union
The actress' show, Being Mary Jane, is coming to an end. And though her Bad Boys spinoff series, L.A.'s Finest, has been ordered to series, maybe she can juggle the two? Wishful thinking.
Regina King
She's a three-time Emmy winner — and a nominee for her work as an on-screen cop on Southland. Enough said.
Lethal Weapon, Tuesdays, 9/8c, Fox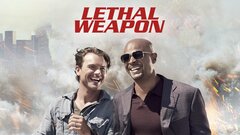 Powered by