Clayne Crawford Breaks Silence on 'Lethal Weapon' Firing & Those Recordings
It's been four months since Clayne Crawford was fired from the Fox police drama Lethal Weapon, and he's still not over it.
During an conversation on the Drinkin' Bros podcast, Crawford told his side of the story and specifically spoke about the two incidents when he used explicit language while complaining to the assistant director about the noise level around the set and fought with co-star Damon Wayans. Both audio recordings were obtained by Variety.
"I knew that they had those tapes, and they had been blackmailing me with them… anytime I had a problem with [Wayans]," Crawford said. "When the incident happened, I had to pay half of my salary for that episode, I had to spend six weeks in anger management every day on my lunch break, and I had to be escorted to and from set by a security guard, so it was humiliating."
See Also
The new cast member hits the ground running.
Problems with his co-star Wayans reportedly included outbursts, Wayans getting hurt on set and reportedly refusing to attend table reads and shoot at certain locations.
There were also rumors that Crawford yelled at kids who were making noise near the set during his taped outburst which he called a "blatant f**king lie…"
"Clearly I'm yelling at the guy whose job it is to get the set quiet," he explained. "And here's the thing: Did I make a poor choice? Absolutely, and I felt embarrassed in the moment because I was belligerent… We'd been shooting a three-page scene for eight hours, okay? We were so behind, and we continued to try and shoot through all of this noise… We stopped production over seven times. I called my agent, we were writing emails, we were phoning everyone we could to try and help us resolve the situation. No one would come in, no one would help us… So I shot all of my coverage in between the sounds."
See Also
The actor reveals what went on behind the scenes.
Then, a second recording was released of a profanity-laden argument between Wayans and Crawford. "I did not expect that tape to come out," Crawford admitted.
"That was the episode I was directing… On Damon's first or second day… he called in sick, which, he never called in sick. [He] comes back to work the next day and he's shooting hoops. And I was like, 'Are you feeling better?' and he was like, 'Come on, bro. Everybody needed a day off.'"
Crawford also stood behind the fact that he was never got a phone all from Warner Bros. firing him. The only phone her received was from studio president Peter Roth. Crawford says, "He said, 'Clayne, I can't promise you that I can save your job, but what I can tell you is that you have to make a public announcement apologizing, publicly, to Damon Wayans.'"
See Also
Plus, find out when new series like 'The Cool Kids' and 'Rel' will make their debuts.
"I was like, 'What the f**k? Peter, why would I apologize publicly because he and I had a riff on set?' And he's like, 'Clayne, that statement alone tells me you don't want to come back… If I were you, I'd look your children in the eyes, and I'd look your wife in the eyes, and you need to make a decision.'"
Lethal Weapon has since replaced Crawford with Seann William Scott, who plays Wesley Cole, and Murtaugh's (Wayans) new partner.
Lethal Weapon, Season 3 Premiere, Tuesday, Sept. 25, 9/8c, Fox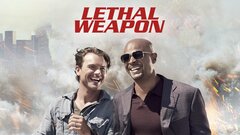 Powered by