TNT's Complete 'Supernatural' Halloween Marathon Schedule
This Halloween, TNT is not cursing but blessing Supernatural fans with an all-day marathon featuring the show's spookiest episodes.
Beginning at 8 am ET/7c, fans can watch 12 non-stop hours of brothers Sam (Jared Padalecki) and Dean (Jensen Ackles) fighting evil, supernatural forces in episodes from the show's first four seasons.
See Also
It's always a good time on set with the Winchesters!
Get ready for some serious chills, thrills, and spooks with episodes featuring hauntings, ghosts, zombies, and Bloody Mary herself. Take a step back in time with the early seasons of The CW hit, and get into the All Hallow's Eve spirit!
Check the full schedule below so you don't miss anything in the exciting lineup:
Episode 4.07 – "It's the Great Pumpkin, Sam Winchester"
8:00a.m.-9:00 a.m. ET/PT
Episode 4.05 – "Monster Movie"
9:00am-10:00a.m. ET/PT
Episode 2.18 – "Hollywood Babylon"
10:00a.m.-11:00a.m. ET/PT
Episode 3.13 – "Ghostfacers"
11:00a.m.-12:00p.m. ET/PT
Episode 1.01 – "Pilot"
12:00p.m.-1:00p.m. ET/PT
See Also
Plus, the guys gush about Tom Hardy and weigh in on Stephen Amell's very specific autograph.
Episode 2.04 – "Children Shouldn't Play with Dead Things"
1:00p.m.-2:00p.m. ET/PT
Episode 1.19 – "Provenance"
2:00p.m.-3:00p.m. ET/PT
Episode 2.11 – "Playthings"
3:00p.m.-4:00p.m. ET/PT
Episode 1.15 – "The Benders"
4:00p.m.-5:00p.m. ET/PT
Episode 3.02 – "The Kids Are Alright"
5:00p.m.-6:00p.m. ET/PT
Episode 4.11 – "Family Remains"
6:00p.m.-7:00p.m. ET/PT
Episode 1.05 – "Bloody Mary"
7:00p.m.-8:00p.m. ET/PT
Supernatural Halloween Marathon, Wednesday, October 31, 8 am/7c, TNT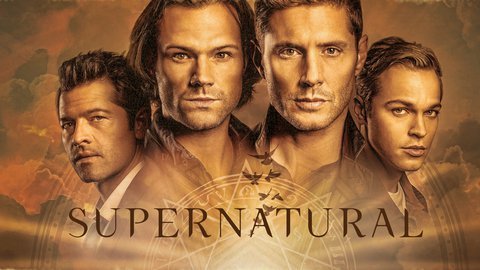 Powered by