'The Neighborhood' Cast & EPs Hope to Offer a Diverse Perspective & 'Change Some Minds'
Created by Jim Reynolds (The Big Bang Theory), The Neighborhood, which debuts Monday on CBS, is based on the writer's real-life experience of moving into a predominately black neighborhood in SoCal with his wife.
In addition to playing series lead Calvin Butler, Cedric the Entertainer serves as the show's executive producer. He told TV Insider at PaleyFest Fall TV Previews that the sitcom's goal is to present all the characters authentically and for the jokes to hit home in both an entertaining and thought-provoking manner.
See Also
The new comedy wants to 'bring people into a safe space and then talk about some delicate issues.'
Max Greenfield (New Girl) stars as Dave Johnson, Calvin's new neighbor from the Midwest, who has all the best intentions but in his efforts to be earnest, he comes off as trying too hard, unaware of how off-putting that can be.
"Tonally, [the show] was [initially] off-track because you don't have the black guy's point of view," Cedric says. "You have the white guy's point of view of what he thinks is the black guy's point of view."
Greenfield, who recalls viewing a lot of All in the Family when it was rebroadcast on Nick at Nite in the late 1990s, hopes that The Neighborhood can get laughs and also get people talking.
"If we can take some of the bite out of what's become a conversation you can't enter into anymore, that'd be great," Greenfield says. "I really hope that it will take air out of the balloon and allow people to at least have the beginnings of a conversation that isn't so heated."
As a standup, Cedric is pleased the show's done in front of a live studio audience. "I like the feel of hearing that laughter and knowing it impacts the audience right there in the moment," he says.
The show's writers' room is very diverse. "We have 40 percent women, writers who are black and white, young and old," Cedric notes. "I attribute that to Jim."
See Also
Figure out what to watch this season, based on what you've watched before.
Tichina Arnold (Everybody Hates Chris, Martin) and Beth Behrs (Two Broke Girls) play Tina and Gemma, the respective wives of Calvin and Dave.
"Tina's a bit calmer than other characters I've played," previews Arnold. "She's Calvin's backbone, the voice of reason. I try to insert a little bit of myself into all my characters. Tina's grounded, fun-loving, and a straight shooter."
Gemma also has her husband's back. And like Dave, she means well. "That shouldn't be misconstrued," says Behrs, aware that there was often backlash to how some of the characters on her former sitcom were presented. "That being said, everyone's going to have opinions."
"I don't mind if people draw… conclusions because I think what we will do if people see themselves reflected in these characters, regardless of race, that's a good thing," Reynolds says. "And my hope is that we will win hearts and then we can change some minds."
Cedric has a wish list of guest stars that include his pals Steve Harvey, George Lopez, and fellow former Who Wants to Be a Millionaire host Meredith Vieira. "I [also] like the idea of finding and casting unique people," he says. "I just want to be able to write stories. Maybe have Al Roker (Today) pop up in our neighborhood."
According to at least one cast member, the show's scribes also pick their brains for ideas. "We talk all the time," says Marcel Spears (The Mayor), who plays Calvin and Tina's son, Marty, an engineer. "Jim and the writers are constantly asking us questions about our lives so they can find ways to weave [our experiences] into the story."
The key point to keep in mind, Spears says, is that "Max's character means well. He assumes that meaning well that will erase what his moving into the neighborhood means to other people." Dave's good intentions are great to have, but Spears adds, "The true work is in getting to know people that you want to build a relationship with. I definitely think our show does that."
See Also
Plus, stars from 'The Neighborhood' and 'Happy Together.'
Future episodes will touch upon social issues, but not in a heavy-handed way. "I don't think it will ever be in a finger-wagging, condescending, or 'the more you know' type of way," says Reynolds.
Time will tell how audiences respond to the series, but Behrs feels good about the show's literal neighborhood. "We're on the same stage that Mary Tyler Moore was," the actress says with a smile. "I feel we have really good Juju."
The Neighborhood, Mondays, 8/7c, CBS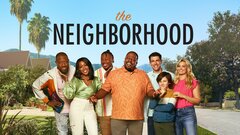 Powered by