'The Neighborhood' EP on Tackling Race Relations & Prejudices in a Lighthearted Way
Where's the welcome mat? On the new CBS sitcom The Neighborhood, New Girl's Max Greenfield plays the perennially cheerful Dave Johnson, a white conflict management specialist who moves wife Gemma (Beth Behrs) and their young son from the Midwest to a predominantly black area of L.A.
Longtime resident Calvin Butler (Cedric the Entertainer), however, is not so happy with the demographic shift on the block. "Calvin's this big, gruff, tough, hard-to-get-to-know guy, and Dave's this guy who won't let up," says executive producer Jim Reynolds. "Dave is going to be Calvin's friend."
Translation: Expect to cringe. In the vein of Norman Lear classics like All in the Family, the series also explores race relations and prejudices — in a lighthearted way, of course.
"This is a traditional sitcom," continues Reynolds, "a comfortable and welcoming vehicle to bring people into a safe space and then talk about some delicate issues."
The Neighborhood, Series Premiere, Monday, October 1, 8/7c, CBS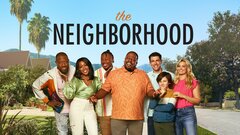 Powered by