Damon Wayans Jr. & Amber Stevens West Talk 'Happy Together' — Plus, Scoop on Damon Wayans Sr.'s Role!
It's far from a coincidence that Felix Mallard (Neighbours), who stars as rising pop star Cooper James on the CBS sitcom Happy Together, bears more than a passing resemblance to Harry Styles.
The former One Direction singer is not only one of the executive producers of the series. However, the premise of the show — Cooper going to live with his accountant and his wife — is taken from a real-life situation in which Styles temporarily resided with director Ben Winston, one of the show's executive producers.
Ironically, Mallard says he used to be mistaken more for Justin Bieber than Styles, which didn't sit well with him! "I was a young, angry kid and I'd say, 'No! I don't like him!'" Ironically, shortly before being cast as Cooper, Mallard says he was confused for being Styles when he was out shopping in Los Angeles.
"What's completely coincidental is that my middle name is 'Cooper,'" says Mallard, speaking to TV Insider at the PaleyFest Fall TV Previews last month. "Also, I said I'd come to America and if I didn't have anything [booked] by April 18, I'd go home and that was the day we ended up shooting the pilot."
In Happy Together, Cooper seeks refuge from paparazzi by going to live with his accountant, Jake, played by Damon Wayans Jr. (Happy Endings), and his wife, Claire, played by Amber Stevens West (The Carmichael Show).
While some sitcoms this season (Murphy Brown, for example) are presenting social and political topics, Happy Together won't be one of them.
"We're not dealing with issues the way other shows are," says Austen Earl, executive producer. "One thing that is important to us is updating the marriage comedy [dynamic]. Historically, you have the naggy wife and a dopey husband who comes home from work and wants his home to be the way he wants it to be.
"Tim [McAuliffe, executive producer], Ben, and myself are all married to professional women, who work hard," continues Earl. "We want to do a show that shows people who love each other and wake up every day, trying to have a great adventure together. This 'pop star' elements brings them to that goal on steroids. We want to have an aspirational show in which people say, 'I wish my marriage was like that.'"
"The show's never about any heavy topic; instead, we figure out how to get through things together," West says. Wayans concurs, adding, "We're presented a problem and the episode is about us trying to be there for each other."
The studio lot on which Happy Together films has a special resonance for West. "My dad [Shadoe Stevens] was on a CBS multi-camera sitcom, Dave's World, which starred [the late] Harry Anderson," she recalls. "I have a lot of happy memories there. It's so cool for me to come to the same place and do the same thing."
Happy Together started production earlier this year to accommodate West's real-life pregnancy. The series will take a brief hiatus in order for West to deliver her baby, have a maternity leave, and then everyone will return to work to finish up the show's initial order.
"Everyone's been super cool and is excited for me to bring the baby to work," West says.
"I hope the baby's first word will be 'Damon,'" jokes Wayans.
If it is, West's baby might be referring to Damon Wayans Sr., who will pop up later in the season playing Jake's father.
"He was up against a lot of other actors for the role," quips Winston, adding on a more serious note, "He's brilliant and funny. It's wonderful and joyful to watch the two Damon's play off each other."
Victor Williams (King of Queens) and Stephanie Weir (MADtv) play Claire's parents, Gerald and Bonnie, who enjoy a, you guessed it, happy marriage!
Serving as a contrast to all the joyful relationships on the show is Cooper's manager Wayne, played by Chris Parnell (Saturday Night Live).
"It's nice to have that other energy," notes Earl. "Wayne's focused on this one client and he's starting out in a rockier place, but we see a trajectory where he'll find some happiness. If Chris would stop being so funny with his jokes about divorce, we'd probably move out of it more quickly. He just kills it!"
Happy Together, Mondays, 8:30/7:30c, CBS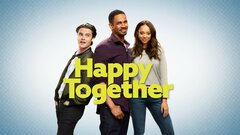 Powered by