'Lucifer's Rachael Harris on Having a Weakness for Devilish Men
The doctor will see you now. Rachael Harris is prescribing laughs as Lucifer's comic relief, therapist Linda Martin, who helps her new patient, the former lord of Hell (Tom Ellis), as he starts a new life in L.A. They're also engaging in a steamy—and off-the-books—affair. Harris reveals why Linda has sympathy for this devil.
What's behind Lucifer and Linda's deep connection?
He's never been to therapy before, and it's the first time somebody has challenged him. He really doesn't understand the feelings that he's having as he's becoming more human.
What issues do they work through?
She thinks he's delusional! He has daddy issues, which is very common. He's fascinated with what makes Chloe [the LAPD detective played by Lauren German] tick. Linda's fascinated by what makes him tick.
PHOTOS: 9 TV Devils That Make Bad Look Good
Do their sexual escapades continue, or will doctor-patient boundaries be put into place?
At the end of the day, she is human, and he is f—ing hot! Having sex with her is perfunctory for him. It's like payment. But Linda starts to have feelings for him because they're emotionally talking, and her own ego starts to get bruised when he is so infatuated with Chloe. It gets much more emotional.
What's it like working with Tom in those intimate scenes?
He knows exactly how to put you at ease when you have to do something where you're underneath sheets and all you've got on is a little tube top and fleshy boy shorts that are not flattering! [Laughs] We both were spray-tanned within an inch of our lives, so we had fun in that regard.
Lucifer, Mondays, 9/8c, Fox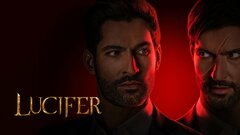 Lucifer
where to stream
Powered by