'11.22.63' Goes Back to the Past to Stop a Presidential Assassination
They say time heals all wounds—but can it also save the life of President John F. Kennedy? The ambitious, tension-packed Hulu miniseries 11.22.63 stars James Franco as Jake Epping, a modern-day schoolteacher who travels through a space-time portal to the 1960s to stop Lee Harvey Oswald from assassinating JFK. Based on Stephen King's 2011 bestseller, this J.J. Abrams-produced saga toys with the idea that the world would be better off today if Kennedy had survived that tragic day in Dallas.
"It's one of the great, fascinating what-ifs of history," Franco says. "Had JFK lived and served two terms, the Vietnam War might have been avoided. Maybe Robert F. Kennedy would have become the next president. Then Nixon and Watergate wouldn't have happened. And the ripples go on from there."
But according to the butterfly effect, even the tiniest change can trigger mammoth consequences. Who's to say that all this altered U.S. history would bring about positive results? This is, after all, the spooky, freaky world of King.
"The butterfly effect is both aspirational and a huge red-light warning, and Stephen looks at that contradiction brilliantly," says executive producer Bridget Carpenter (Friday Night Lights). "When you have material this epic and thought-provoking, you need to do it right. You need to make it sing." Carpenter worked closely with King to fashion his 849-page gorilla of a book into an eight-part teleplay. (Hulu will release new episodes every Monday, starting, appropriately, on Presidents' Day.)
RELATED: Keep Track of New Shows Premiering in 2016
The project required painstaking period detail. Carpenter shut down Dealey Plaza in the center of Dallas for two days to re-create the scene of the crime, using more than 500 extras who were costumed and positioned precisely as onlookers were on November 22, 1963.
"To restage the assassination in the real locale was the ultimate mind twister. When I wasn't needed as an actor, I rode in the camera car right in front of the motorcade to experience it fully," Franco says. "We were all really moved and overwhelmed because there's such a heavy, profound energy in Dealey Plaza. It still lingers more than 50 years later."
But 11.22.63 is about so much more than saving JFK. As the story unfolds, Jake is urged to go back in time by his friend Al Templeton (Oscar winner Chris Cooper), who has already made frequent attempts to stop Oswald and is now dying of cancer. (The portal is located in the pantry of Al's greasy-spoon diner.) But there are rules to all this time jumping: The portal won't take you directly to 1963. It drops you off in 1960, which means Jake has plenty of time to live life, get a teaching job, fall in love and marvel at the '60s—what, no Internet?—while he's tracking Oswald and trying to figure out if he's a lone gunman or part of a larger conspiracy.
Plus, there are other lives to be saved. The series provides startling showcases for Josh Duhamel and T.R. Knight, who play against their good-guy images as a pair of psychopathic villains. Duhamel is Frank Dunning, a whiskey-fueled redneck who is destined to kill his wife and most of his kids unless Jake steps in and kills him first.
"Frank is so heinous and unthinkable—not a fun thing to play at all—yet it felt cathartic to shine some light on domestic violence," Duhamel says. "People turned a blind eye to it back then. If you're going to paint an accurate picture of the past, it can't be all rosy." Duhamel broke into the big time costarring with alien robots in the Transformers movies, but he says 11.22.63 is "my favorite kind of sci-fi. It's real and grounded. If time travel could really happen, this is what it would feel like."
Yet another story of marital abuse features Knight as Johnny Clayton, a silky-smooth salesman estranged from the woman Jake falls for—blonde and beautiful Sadie Dunhill (Sarah Gadon). Johnny, who is sexually repressed and jealous as hell, begins stalking Sadie, forcing Jake once again to take the law into his own hands.
"I was expecting this to be a great thriller," says Knight, "but I was very moved by Jake and Sadie's love story. It takes you totally off-guard." Like most of the cast—and a lot of Hulu watchers—the Grey's Anatomy vet wasn't alive when JFK was killed. "But those of us who were around for 9/11—another event that changed us forever—can certainly relate to the idea of going back and trying to stop it if you could," Knight says. "It's human nature to think that way."
It's also human nature to ignore dire warnings. "King lays it out very clearly—by messing with history, you might make things even worse," Franco says. "But if I had the chance to go back and stop a horrific, earth-shattering crime, I like to think I'd do it. I mean, it's JFK! How could you not?"
RELATED: Characters Who Also Altered U.S. History in The Man in the High Castle
https://www.youtube.com/watch?v=NXUx__qQGew
11.22.63, Series premiere, Monday, Feb. 15, Hulu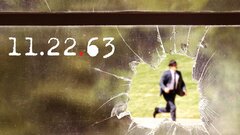 Powered by