'11.22.63': Here's What Hulu's Upcoming Stephen King Adaptation Will Look Like
Hulu is taking a big swing with its upcoming adaption of Stephen King's novel, 11.22.63.
The streaming site released a new trailer today for the series that's set to premiere in a little under three months:
The eight-part event series follows Jake Epping (James Franco), a high school English teacher who travels back in time with the intention of preventing the assassination of President John F. Kennedy. But his plans are put in jeopardy once he actually gets to the past and starts forming new relationships.
11.22.63 also stars Chris Cooper, Josh Duhamel, T.R. Knight, Cherry Jones, Sarah Gadon, Lucy Fry, George MacKay and Daniel Webber.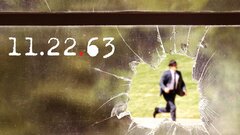 Powered by