Critic's Notebook: A Not-So-Marvelous Emmy Show
There were tears and cheers at this year's Emmys — not for the show itself, and not so much for most of the winners, though there were a number of pleasant surprises along the way: The Americans for writing and star Matthew Rhys, The Crown's Claire Foy, Barry's Bill Hader and especially Henry Winkler, Godless's Meritt Wever, RuPaul's Drag Race for Reality Competition Series, and all those marvelous Mrs. Maisel trophies.
It took an impromptu wedding proposal, by an Oscar-show director unknown to most viewers, to bring emotional spontaneity and surprise to a stubbornly unfunny, leaden broadcast. After paying tribute to his mother, who died two weeks earlier, Glenn Weiss called out to his girlfriend, Jan, "I want to call you my wife," and he presented her the ring his dad gave his mom 67 years ago. The audience, at home and in the Microsoft Theater, swooned.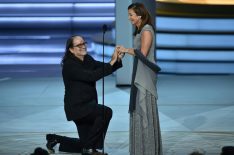 See Also
From hilarious to emotional, and everything in-between.
Yawning, alas, was the involuntary response to most of the rest of the Emmy show, produced by Saturday Night Live impresario Lorne Michaels, who made the unfortunate call of placing his Weekend Update hosts Colin Jost and Michael Che front and center. With all the stage presence of an amateur debate team, this duo lacked energy, charisma and much in the way of inspired material.
They didn't even kick off the show.
"We solved it," sang ill-used Saturday Night Live cast members Kate McKinnon and Kenan Thompson, among other guests, in a lame opening production number hammering home the night's primary satirical subject: not politics for once, but Hollywood's self-congratulatory attitude toward diversity and inclusion. (The best line went to nominee Sandra Oh in the audience: "Thank you, but it's an honor just to be Asian.")
What's TV without a few guest stars?😉

Watch the #Emmys opening performance! pic.twitter.com/uHloviDoMx

— NBC Entertainment (@nbc) September 18, 2018
Turns out not even a celebrated producer like Michaels, who once again accepted the Variety Sketch Series Emmy for SNL, could solve the paradox of the Emmys, a show celebrating the best of TV that often is one of the worst TV awards show of any given year. Jost looked lost on stage, Che just seemed as bored with the whole thing as we were, and adding to the embarrassment was a dud of a running gag featuring SNL veterans (and stars of Amazon's wonderful Forever) Maya Rudolph and Fred Armisen as clueless Emmy "experts." Their bits felt like they lasted forever and a day.
The hosts' emphasis on diversity humor took on an ironic counterpoint when the first wave of awards, dominated by Amazon's fabulous The Marvelous Mrs. Maisel, went to all white performers and writer/directors. (Seven Seconds' Regina King, winning her third Emmy, and Westworld's Thandie Newton were the somewhat surprise exceptions.)
See Also
Find out who's walking home with trophies tonight.
Memorable moments were few: TV legend Betty White, at 96, taking a bow to a standing ovation (though she was pretty much stranded at the podium); Aretha Franklin's rendition of "Amazing Grace" movingly underscoring the In Memoriam segment; Jeff Daniels of Godless thanking his horse, Apollo ("He was Jeff Bridges' horse on True Grit and I felt he was making unfair comparisons"). Better than any of the live comedy routines was Che's filmed piece in which he handed out "Reparations Emmys," jokingly "stolen" from Bill Cosby, to African-American comedy icons including Marla Gibbs, Jimmie Walker, Kadeem Hardison, Jaleel White and Tichina Arnold.
It wasn't the best year to be an Emmy predictor, if you look to the past to guide your picks. Last year's big drama winner, The Handmaid's Tale, was shut out of the televised awards, including the top acting prizes. Same for critical darling Atlanta in the key comedy categories. (Game of Thrones, co-star Peter Dinklage, SNL and Last Week Tonight with John Oliver were among the few repeat winners.)
It was an even worse year to be an Emmy viewer. The whole show felt like presenter Will Ferrell's painfully slow shuffle to the mike: not very funny, and though it went off on time, it felt like it would never end.
See Also
And was the speech he gave on air really written over four decades ago?