Henry Winkler on His First Emmy Win After 42 Years: 'I Was 27 When I Started Doing the Fonz!'
Henry Winkler, the sentimental favorite tonight, was one of the first winners at the 70th Annual Primetime Emmy Awards and one of the first actors to hit the backstage press room to share his thoughts on his victory.
"This is so wonderful, I can't even begin to tell you," Winkler told reporters.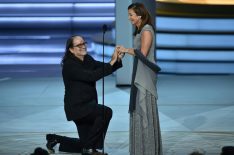 See Also
From hilarious to emotional, and everything in-between.
He believes that he's the actor who's had the longest drought in between nominations; his most recent ones prior to winning tonight for his role as Gene Cousineau on HBO's Barry were in 2000 when he was nominated for both Outstanding Guest Actor in Drama Series in a Comedy (Battery Park) and Outstanding Guest Actor in a Drama (The Practice).
"Over 7,400 people have been nominated between my last nomination and [tonight]," Winkler quipped.
Asked what it was like to work with comedian Bill Hader, Barry's creator, who won for Outstanding Lead Actor in a Comedy, Winkler said, "When he is producing and directing he is not a comedian. He's focused and serious. He'd write the script [you're shooting] and mouth it with you even if he were in your scene. You have to remind him your acting together."
As the writer of the scene, Hader notices when Winkler goes off script, even a word or two.
"He would say to me, 'Henry, please just once say it the way I wrote it…' I'd say, 'Bill, I'm trying. My mouth and my mind are not always my best friends.'"
Was the speech he gave on air really written over four decades ago? "No," Winkler clarified. "That was another speech. I forgot to thank HBO. I wanted to say [thanks to] everybody who works there between the roof and the lobby. They took such good care of our show."
For Winkler, as much as he treasures his golden girl, he says the real reward for being an actor is getting to work. "Here's the truth: in two days, we start the second season [of Barry] and I'm on this great show. I was 27 when I started doing the Fonz [on Happy Days, for which Winkler earned two Emmy nominations], and I'm 72 now. And I'm standing right here in front of you with [this Emmy]."
Pals at the Emmys pic.twitter.com/lLHoadkltP

— Henry Winkler (@hwinkler4real) September 17, 2018
One reporter asked Winkler if he had any advice for upcoming actors (actually, the reporter used the word 'stars', so Winkler responded to that).
"Being a star has nothing to do with wanting to do what we do," he offered. "I've dreamt of being an actor since I was seven years old living in New York City on the West Side with short, Jewish, German parents who did not want me to become an actor – until I became a star, at which point they became the 'co-producers' of Henry Winkler."
See Also
Aaaaaaayyyyyyyyyyyyy! What was the beloved actor's first nomination for playing The Fonz like? He spills all!
The Emmy winner added: "Here's my advice: Be yourself. Be honest about your ability. Prepare so that you're not a flash in the pan. When I first started in Hollywood in 1973 I thought of myself as a tree, a sapling. And I planted it and I was the forest ranger, and I wanted to grow and be strong…what a tree it is!"
Barry, Season 2, 2019, HBO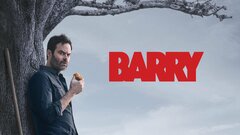 Barry
where to stream
Powered by