Emmy Winner Glenn Weiss Shares How His Live Proposal Came About
Many actors want to direct. What director Glenn Weiss wanted to do was propose. So he did.
Weiss, who won the Emmy for Best Directing for a Variety Special (for directing the 2018 Oscars on ABC), shocked the audiences both in the Microsoft Theater in Los Angeles and at home by proposing to his girlfriend, Jan Svendsen, during his acceptance speech.
Svendsen said yes.
See Also
Find out who's walking home with trophies tonight.
Backstage, Weiss, accompanied by Svendsen, explained to reporters that there was only one person who knew about his plan to propose – his father, because Weiss asked his dad if he could have his late mom's wedding ring to give to Svendsen.
"This wasn't always the plan," says Weiss of proposing marriage in front of not only the TV industry but to millions of viewers. "It's not like I knew I was going to win."
No word on who the best man will be but don't be surprised if Weiss asks Hamish Hamilton, a nominee in his category and director of this year's Emmys. Weiss says he wants to thank Hamilton "for not playing us off!"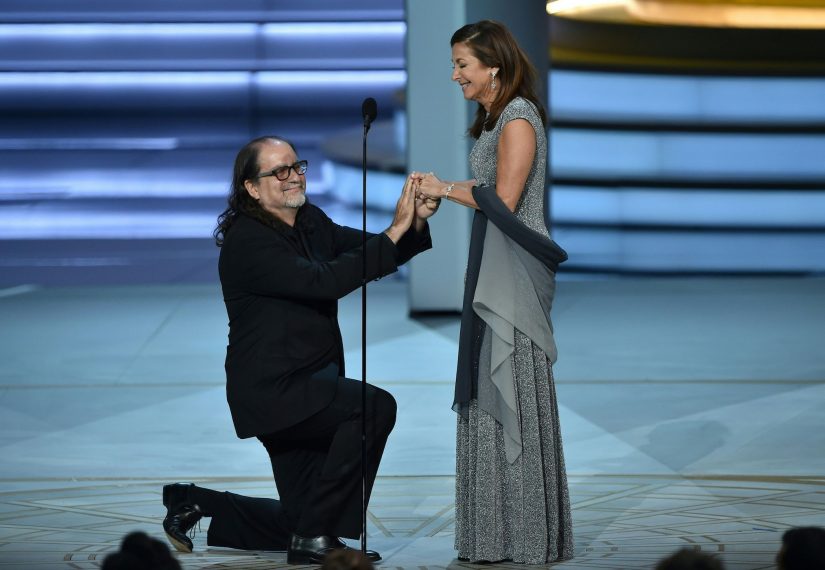 The engaged duo met back in 2001 when Weiss was directing the Tony Awards. He met Svendsen, who tells TV Insider that, at the time, she was working in marketing for The Broadway League.
"One time, I fell down at one show," she recalls. "Walking up [the stairs tonight] was surreal. I'm beyond ecstatic. There's no doubt in my mind that we belong together."
Weiss' life has been on a series of emotional highs and lows in recent weeks.
"My mom just passed away two weeks ago," the Emmy winner says. "It's been a whole lot of emotion. When my Mom used to come to watch rehearsals at the Tony Awards, I'd find her and Jan off in a corner talking all the time. They started emailing each other. Later my Mom would always say, 'She was my friend first.' That's what makes this bittersweet, but really nice.
"It became a thought," he says of getting the idea to propose on-air. "The thought picked up steam. The timing just lined up very nicely."
See Also
And was the speech he gave on air really written over four decades ago?
Had Weiss not won, he quipped he might have waited "till next year or [proposed] at the [Governors'] ball or at In-N-Out Burger, which is our staple."
Weiss says he and Svendsen haven't had time to get responses from family and friends because they've been doing a backstage press tour. "We've been dragged here and there," he says.
Weiss has walked many red carpets but he says this one was a little different given that he had his beloved late mother's wedding band in his pocket. One reporter identified it as a diamond ring; Weiss clarified it's not but "it's more valuable than the Hope Diamond. It was nerve-wracking carrying it around, but now it's where it belongs."
Svendsen says she had no idea this was going to happen. "[Glenn] is usually so eloquent in his thank you speeches. I was hoping he'd dedicate the award to his mother. He did, and then some. I'm still processing all this."
One question posed to Weiss backstage dealt with the Academy of Motion Picture Arts & Sciences' plan to present "below the line" categories at next year's Oscars during the commercials.
Weiss didn't want to get into that at this time so he simply quipped: "What we want to do is put 'below the line' proposals on during the commercials."
No word on a wedding date, but Weiss says that both are prepared to blend their families.
"We both have daughters," he says. "There's nothing but estrogen in our world, which is all really good. Our lives came together at the Tony Awards. It's been centered on this environment. We'll probably hit more parties tonight. It'll be a long night."