5 Buzzed-About Moments From the 'AHS: Apocalypse' Premiere
[The following article contains spoilers from the Season 8 premiere of American Horror Story: Apocalypse.]
The apocalypse has commenced in Ryan Murphy's new season of American Horror Story.
Wednesday night was the premiere and fans got their first look at the eighth edition of this anthology series which is a crossover of Season 1's Murder House, and Season 3's Coven and as all AHS fans know, in the beginning we have a lot more questions than answers.
See Also
The 'Murder House' and 'Coven' crossover season premieres in September.
Apocalypse only has ten episodes so it started right off with the world. Here are five moments we're still buzzing about:
5. Bye, Bye Billy
Billy Eichner's character didn't live too long but we still got to see him yell at people on the streets, inspired by his best Billy on the Street moments.
After a number of nuclear explosions killed the majority of the world's population, the amount of people who survived is slim to least the least.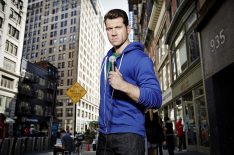 See Also
Emma Stone, Lin-Manuel Miranda, and more make up the star-studded lineup.
4. DNA
The audience is taken to Outpost 3 where we meet Timothy (Kyle Allen), a "chosen" survivor who was by an organization called the "Cooperative" because his DNA is special. They found him because he his genetics were registered on an ancestry website… very Black Mirror and begs the questions: what do those sites do with all your DNA information?
3. The Color System
The Outpost also divides its inhabitants by a color class system: the purple group are the elite, worthy, and chosen while the gray group is basically indentured slaves.
Purple members include: hairstylist Mr. Gallant (Evan Peters), his grandmother Evie (Joan Collins) and Coco St. Pierre (Leslie Grossman), a billionaire, and celebrity Dinah Stevens (Adina Porter). One important gray member is Mallory (Billie Lourd), who was Coco's assistant.
2. Wilhelmina Venable
Miss Venable, to you, is played by Sarah Paulsen and she's the "face" of the Cooperative, who happens to love Victorian era fashion, and the chills she gives you are very, very real.
1. Michael Langdon (Cody Fern)
Yep, the same baby from Murder House… now with some long Jesus hair. He's all grown up and visits Outpost 3 to announce that another shelter exists with tons of supplies, but it's only meant for "those most worthy of survival" and who joins him is up to his discretion.
American Horror Story: Apocalypse, Wednesdays, 10/9c, FX
Powered by