'Billy on the Street' Gets Web Series Revival Produced by Lyft
Billy Eichner's hitting the streets once more! The comedian is returning with new Billy on the Street episodes after its 2017 truTV cancellation.
Eichner is teaming up with Funny or Die and new producer Lyft (yes, the car service) to bring fans eight all-new episodes of the favorite game/interview show via a re-imagined web series revealed The Hollywood Reporter. The actor also shared the exciting news on his Twitter page.
I HAVE SOME NEWS…BILLY ON THE STREET is COMING BACK!!!!!!! With special guests EMMA STONE, TIFFANY HADDISH, LIN-MANUEL MIRANDA, KATE McKINNON and MORE!!! LET'S GO LESBIANS, LET'S GO!!!!!! pic.twitter.com/Wz5HIuZHzw

— billy eichner (@billyeichner) September 5, 2018
One of the features of Billy on the Street is celebrity guests, and Eichner's announcement implies a star-studded event with the likes of Emma Stone, Lin-Manuel Miranda, Tiffany Haddish, Kate McKinnon, and more. Unlike the former half-hour format, the revamped web series will consist of shorter running times and will be available to view through Eichner's social media pages, FunnyOrDie.com, and Billy on the Street YouTube channel.
"I'm back to heal the country…and the world! After five seasons of the TV series, I knew I wanted to set the show aside in order to create some time in my schedule to pursue other projects," said Eichner according to THR.
See Also
The 'Difficult People' star also would love to do a project with Meryl Streep or Cate Blanchett (and who wouldn't?)
"Now that those are taking shape, I'm truly thrilled we've found a way to bring Billy on the Street back that makes so much sense for this particular show. As we all know, this is a very divisive, anxiety-ridden time and I hope these new segments — featuring the most stunning roster of guests we've ever had — give people a small burst of joy in their timelines while allowing me to comment on culture and the world at large in the unique way this show allows me to."
The series has earned praise in the past, garnering a few Emmy nominations including Outstanding Short-Format Live-Action Entertainment Program in 2015, and Outstanding Variety Sketch Series in 2017. After parting ways with truTV, Eichner focused more on acting — he'll once again star in FX's American Horror Story and is set to appear as Timon in Disney's upcoming live-action Lion King film.
See Also
It's not the first time a TV show has recruited political guest stars.
He's also appeared in Difficult People, Parks and Recreation, Friends From College, Bob's Burgers, as well as the live NBC musical Hairspray!. More news in regards to the revival are sure to be revealed soon, including more guests. Either way it's definitely a thrilling day for fans of the quirky series.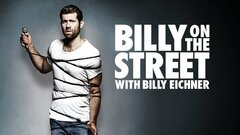 Powered by