Norm MacDonald Defends Roseanne Barr & Louis C.K. Ahead of Netflix Show
Comedian and former Saturday Night Live: Weekend Update anchor Norm MacDonald is coming to the defense of former colleagues Roseanne Barr and Louis C.K. on his current press tour for Netflix's Norm MacDonald Has a Show.
MacDonald got his start in TV by writing for the original Roseanne and went on to work for the revival before its cancellation. And MacDonald's friendships with two of Hollywood's most recently ostracized individuals is certainly a subject of interest.
The upcoming talk show host revealed that, shortly after the public fallout of Barr, he set up a conversation between her and the disgraced C.K..
"Well, Louis [C.K.] and Roseanne [Barr] are the two people I know," he told The Hollywood Reporter. And Roseanne was so broken up [after her show was canceled] that I got Louis to call her, even though Roseanne was very hard on Louis before that. But she was just so broken and just crying constantly."
"There are very few people that have gone through what they have, losing everything in a day," he continued about Barr and C.K.. "Of course, people will go, 'What about the victims?' But you know what? The victims didn't have to go through that.
MacDonald added, "They both said they had a good conversation and were just giving any advice you could give to each other. There would be no way for me to even understand that advice, because who has ever gone through such a thing?
"All their work in their entire life being wiped out in a single day, a moment," he noted.
As far as Roseanne's more controversial political views, MacDonald sang a similar tune to her former co-star, John Goodman.
"I always knew her as a very left-wing person. On the original show, she had [a network sitcom's] first gay couple. She would always want more minorities on the show, on the writing staff. When she did this [revival,] it was all her idea to get all these different orientations and religions and so forth represented. So that's how I always knew her."
Ultimately MacDonald concluded, "She is certainly not a racist. That's just crazy."
As for MacDonald's new series, it will feature some other big names including the show's producer David Letterman, Judge Judy, Jane Fonda, Drew Barrymore, and Lorne Michaels among others. But in spite of his outspoken nature, he says he'll steer away from the politics that have been seeping into late night.
Norm MacDonald Has a Show, Series Premiere, Friday, September 14, Netflix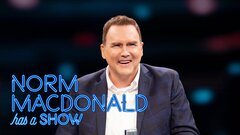 Powered by