Norm MacDonald's 'Show', 'Atypical' & More Streaming on Netflix
Norm MacDonald Has a Show
Series Premiere, Friday, September 14
David Letterman, Drew Barrymore, Jane Fonda, and Chevy Chase are just some of the guests dropping by to chat about life and other big topics with the former SNL funnyman. Longtime pal and fellow comedian Adam Eget takes on the time-honored sidekick role.
Season 2 Premiere, Friday, September 7
The sweetly touching dramedy returns with 10 new episodes about teenager Sam (Keir Gilchrist), who is on the autism spectrum, and his quest for independence. Last year, that entailed navigating the tricky world of dating, and it continues now as he contemplates applying for college. At home, Sam has a supportive, albeit overprotective, family, including cool sister Casey (Brigette Lundy-Paine) and parents (Jennifer Jason Leigh and Michael Rapaport) who are dealing with a huge rift in their marriage.
Next Gen
Movie Premiere, Friday, September 7
Better call tech support! In this colorful animated adventure, a young girl accidentally stumbles upon a top-secret, intelligent robot equipped with dangerous and futuristic weaponry. Lucky for her, it seems nice and just wants to be friends, which is exactly what the alienated and lonely kid needs. Next thing you know, they're embarking on a crazy ride together, fighting off evil robots and thwarting the plans of a mad scientist. And, if they can manage it, possibly preventing a huge disaster from taking place. Charlyne Yi, John Krasinski, Jason Sudeikis, Constance Wu, Michael Peña, and David Cross supply their voices.
The Land of Steady Habits
Movie Premiere,Friday, September 14
After retiring from his finance gig, Anders Hill (Ben Mendelsohn) faces a late-in-life identity crisis. Sure, he's had a lot of successes, but it's all left him feeling unsatisfied and hollow. Is there more out there for a guy like him? That question will lead Hill down a rabbit hole that causes massive upheaval for his upscale Connecticut family. He leaves his wife (Edie Falco) and tries to find happiness through relationships with other women and an unlikely friendship with a teen drug addict (Charlie Tahan).
Not surprisingly, none of that sits too well with Hill's adult son (Thomas Mann). As he continues on his shame spiral, suddenly his former life in Connecticut doesn't look so bad. But is it too late for him to get it back? Nicole Holofcener (Enough Said) directs this adaptation of Ted Thompson's highly praised 2014 novel.
Season 2 Premiere, Friday, September 7
With Season 1's villainous organization the Hand now defeated, master martial artist Danny Rand (Finn Jones) is taking on new threats in New York's Chinatown. But his biggest challenge will come from someone he considers family: Davos (Sacha Dhawan), the only other survivor of the now destroyed city of K'un-Lun, where Danny gained the mystical might of the Iron Fist.
"This season is about yin and yang," explains new showrunner M. Raven Metzner (Sleepy Hollow), adding that Davos feels the title should be his. "Danny and Davos have very different ideas about what the Iron Fist means." Their battle will be epic — which is what you might expect from two guys who have literally brawled with dragons. ("We really evolved our fight scenes," Metzner says of the action-packed new season.)
Meanwhile, Danny's ninja girlfriend, Colleen Wing (Jessica Henwick), is trying to save wayward teens from a life of crime — if they don't kill her first. Another menace will come from seemingly nice Mary (Alice Eve), who is hiding some nasty personalities in her conflicted brain. Comic readers will recognize her as telekinetic mutant Typhoid Mary, one of several fun surprises in store for Marvel enthusiasts. Metzner notes, "I hope comics fans watch this season and know how much I love the same stuff they do." — John Hogan
Season 2 Premiere, Friday, September 14
The second season of the true-crime mockumentary series takes its investigative prowess to a private Catholic high school and a string of crimes perpetrated by someone called the "Turd Burglar." (Yep, expect gross-out humor.) Filmmaker Peter Maldonado (Tyler Alvarez) and his second-in-command, Sam (Griffin Gluck), have their cameras ready to roll yet again.
See Also
It's the actor's first TV role since 2010.
More Marvel-ous Series Available now on Netflix
The Walking Dead's Jon Bernthal fights the worst criminals around — and he's not against using deadly force.
Harlem's superstrong hometown hero (Mike Colter) brings justice to the streets he loves. A great cast, including Golden Globe winner Alfre Woodard, elevates the thought-provoking drama.
With a near 90 percent approval on Rotten Tomatoes, Jessica Jones balances edgy noir and wit while the title hero (Krysten Ritter) faces foes like the mind controlling Kilgrave (David Tennant).
Daredevil — aka blind lawyer Matt Murdock (Charlie Cox) — defends Hell's Kitchen using heightened senses and superhuman sonar.
Some dangers are too great for one hero. Jessica Jones, Luke Cage, Iron Fist, and Daredevil unite to triumph over the evil Alexandra (an excellent Sigourney Weaver).
Movie Premiere, Friday, September 7
At last, justice for Barb! Shannon Purser, who played the doomed fan favorite on Stranger Things, has landed her first leading role in this high school—set adaptation of Cyrano de Bergerac, the 19th-century play about mistaken identity.
She stars as college-bound Sierra, who strikes a deal with mean cheerleader Veronica (Kristine Froseth) to help her win over cute football player Jamey (Noah Centineo). Having top billing on the movie spooked Purser, who admits, "I could have played a tree and still been nervous!"
First off, Sierra's not a loser! She holds her own against bullies, and she's nice!
Shannon Purser: I related. She could have been super self-conscious and insecure, but she's just a teenager trying to find her place in the world, look beyond societal expectations and embrace herself.
Is she anything like awkward teen Barb?
They're both out of their depth. They want to stay true to themselves but get approval from others. Interacting today is so different than the '80s [when Stranger Things is set]. Social media plays a big part in this movie.
At first Jamey thinks he's texting Veronica, not Sierra. But boy, do they have chemistry!
Right off the bat! They have similar senses of humor. Both try to play it cool, but they're big nerds. They're sensitive. He's more complex than a lot of jocks seem.
Veronica's frazzled mom is played by Chrissy Metz (This Is Us). Is she a role model?
Being a plus-size woman in the industry is difficult. There aren't as many parts; we get typecast. To see somebody succeeding and self-confident was inspiring! —Kate Hahn
The World's Most Extraordinary Homes
Season 2 Premiere, Friday, September 14
British architect Piers Taylor and actress Caroline Quentin once again offer a tour of seriously stunning houses that take the idea of rooms with a view to new heights. (Think: homes built on cliff tops, like Novia Scotia's Two Hulls, right.) This season, they visit far-flung locations such as Portugal and Japan to check out architectural marvels that maximize the gorgeous local scenery.
EASY ACCESS!
In the market for a new television? Consider getting a smart TV, which has built-in internet capability. Many flatscreens have remote controls with a designated Netflix button. It takes you to the streaming service with one click!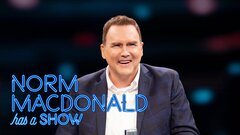 Powered by