Celebrating Betty White, 'Animal Kingdom' Finale, 'Real Sports' Goes to Everest & Wimbledon
A critical checklist of notable Tuesday TV:
Betty White: First Lady of Television (8/7c, PBS, check local listings at pbs.org): Who doesn't adore Betty White? Her biography is akin to the history of television, as we happily glean from this sweet and satisfying tribute from the producers of Pioneers of Television — a title that applies to White, now a still-chipper 96, more than most. This special follows her life and career from the earliest days of live TV on the West Coast through her heyday as an Emmy-winning comedienne in classics from the 1970s (the man-hungry Sue Ann Nivens of The Mary Tyler Moore Show) and 1980s (the lovably dim Rose of The Golden Girls) to her triumph hosting Saturday Night Live in 2010. Her greatest role, though, may have been just being herself: producer, personality, animal advocate (shown cavorting with a giant grizzly bear) and immortal TV star.
See Also
The new PBS special highlights her decades-long TV career.
Animal Kingdom (9/8c, TNT): The third season has been an eventful one for the criminal Cody family, and things aren't likely to let up in the finale, as Smurf (Ellen Barkin) offers to give the boys the freedom they desire, but at a cost. However it works out, they'll be back next summer for Season 4.
See Also
One character — quite literally — might be fish food.
Real Sports with Bryant Gumbel (10/9c, HBO): The first-rate sports newsmagazine travels far and wide in this month's edition. Correspondent David Scott heads to Mount Everest to hear first-hand about dangers on the slopes from those who know the mountain better than anyone: the Sherpas of Nepal, who act as guides for visiting climbers. In another segment, Mary Carillo interviews Mansour Bahrami, a colorful personality who at 62 became the oldest player ever to compete at Wimbledon. And Jon Frankel looks into what many see as the hypersexuality of female cheerleader/dancers on the sidelines of sporting events.
See Also
HBO head Casey Bloys also addressed the creative backlash to Season 2 of 'Westworld.'
Inside Tuesday TV: It's holiday time on NBC's Making It (10/9c), as the contestants design costumes for a Halloween party using everyday household items, then pick their favorite holiday to create a front-door display in the Master Craft challenge… In Investigation Discovery's new series The Devil Speaks (10/9c), real-life audio recordings of police interviews, voicemails and phone calls provide a deep dive into criminal investigations… TBS's survival spoof Wrecked (10/9c) sends rich-brat Danny (Brian Sacca) undercover with the castaways' wealthy captors for some undercover intelligence work. Not that intelligence is anyone's strong suit here.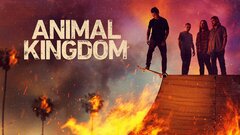 Powered by