'Animal Kingdom' Drops Major Season 3 Shocker — Is [Spoiler] Really Dead?
[Warning: This article contains spoilers from Season 3, Episode 12 of Animal Kingdom.]
With only one episode left before the Animal Kingdom Season 3 finale, the Cody family is struggling even more than usual. Pope (Shawn Hatosy) and Smurf (Ellen Barkin) are at war — literally — he wants to kill her using a lethal drug while she uses young, innocent Lena (Aamya Deva Keroles) as a bargaining chip.
But it's what happened between J (Finn Cole) and Morgan (Laura San Giacomo) that catches fans completely off guard: attempted murder.
See Also
The guy behind Andrew
J's been double crossing Smurf and that ain't good. He's been buying up places then selling them behind her back until she finds out. Acting dumb — which he's deceivingly good at — J blames the lawyer Morgan because how could he have done this by himself?
Smurf confronts Morgan in her usual bone-chilling way but Morgan's warning that J is a bold, two-faced liar falls on deaf ears.
Of course, in true mafia style, J has to make sure Morgan never utters another word again. So he forces her to take a little trip on his boat out into the middle of the ocean, throws buckets of chum overboard, cuts her leg, and then throws her overboard too.
Now, unless Morgan is secretly Aquaman or the water happens to be shark-free, we can assume she won't make it back to shore in one piece.
But what's even scarier is J is acting unfazed by the ordeal — talk about cold-blooded.
Animal Kingdom, Season 3 Finale, Tuesday, August 21, 9/8c, TNT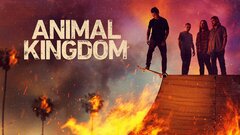 Powered by