Ring of Honor Star Tenille Dashwood on the New Chapter in Her Career & Her Life
It's a new chapter in the pro wrestling career of Tenille Dashwood. One where the former WWE superstar Emma can truly say is truly about her. When the 29-year-old was released from the sports entertainment juggernaut last year, the Australian saw it not as an end, but a beginning.
The fan favorite was inundated with booking requests after the no-compete clause ended in February. Among them came from Ring of Honor, who has revved up its Women of Honor division.
"It made me feel things will be okay," she said on her drive to Toronto in the middle of the ROH War of the Worlds tour. "That there is a different lifestyle out there and this way it can be a bit more rewarding doing things on my time and on my schedule and my way. It can be a little scary in the beginning, not knowing what's coming.
"But once everything started to unravel and appearances were set, it just feels like the same kind of thing I was doing. It's just a little more rewarding meeting the fans, having merchandise for them, and all those little things that come with it now."
Dashwood's schedule has been jam-packed the last three months, with three or four shows a week every weekend. It's not going to be letting up any time soon, and the consummate worker wouldn't have it any other way. She appreciates the freedom, feeling it has renewed her passion for the business.
"I feel revived and alive again with wrestling," she said. "I started this because I love wrestling. Back when I was younger in Australia, I wanted to be a wrestler and loved what I did with WWE.
"It's completely different now. It's not five minutes on TV where I'm asked to do such and such. It's having competitive singles matches every night. There are different opponents every night. I'm meeting new people and improving my own skills every time by working with different people in the ring. It got me going again."
Since making the transition she has received positive messages from those in WWE and on the independent scene. Cody Rhodes, who took a similar path, has given his own advice.
"We talked about how to go about things and make sure I enjoy it and taking advantage of the opportunities I have now. Just to do the things I haven't been able to do in years," Dashwood said.
"With WWE you don't always get to do things the way you like to do them, so now he said to remember that I'm in control and can do things my way. To be doing things for a reason and to wrestle around the world. And not to do it for job, but to do it because you love and enjoy it and travel and meet people and wrestle. It was to remember all that."
Dashwood is willing to put in the work and show fans what she is truly capable of after the bell rings. The Orlando resident reflects on some of her favorite matches on the road thus far, including a Women of Honor tournament match with inaugural champion Sumie Sakai.
She marked a milestone with WWE Mae Young Classic participant Toni Storm recently as the first women to main event a Westside Xtreme Wrestling show in Germany. Names like Kelly Klein and Jordyn Grace are also on her list of opponents.
ROH is currently the only company for which she is doing TV, and a promotion Dashwood has gotten unanimously positive feedback about.
"The fans are really dedicated and love wrestling," she said. "They're happy seeing me do what I love and to be able wrestle again. find it really rewarding because Ring of Honor has been a great place and is going to be even better as the months come."
The mindset right now for Dashwood is not to limit herself. The independent scene has opened her eyes to the wealth of talent out there.
And even though WWE isn't her employer anymore, she remains a fan. The first female Aussie superstar takes pride in the mark she left, opening the door for others to realize their dreams. She watched Sydney natives Peyton Royce and Billie Kay debut on SmackDown Live with a smile.
"I kind of knew it was coming, but I told them not to tell me if it's happening because I wanted to be in the moment," Dashwood said. "I called Peyton out. I called her a liar. I said, 'You're not at home right now.' She was like, 'Oops you got me.' I said, 'No, don't tell me!' I have been friends with those girls for years.
"I just talked to the girls yesterday. They are on the European tour right now. We always catch up. We stay in contact. They come over my house, and we go into the hot tub. We're good friends. I'm so excited for them. Seeing them really warms my heart doing what they love. I know what it feels like to have those big moments and that feeling. So, I'm happy for them."
Dashwood believes she has evolved, showing a new side of herself to audiences. A character that is less of a character and more personal beyond Emma.
"I never really told that part of my story in WWE. How long I've been wrestling. That I wrestled in these places all around the world," she said. "Just like Bayley and Sasha [Banks], I was a fan since I was a little girl as well.
"I left Australia when I was 19 and basically lived on my own the past 10 years trying to follow this crazy dream. I think that is something people are starting to realize. Just finding things out about me. I like that I can continue to travel and meet all the new fans as I go. It has all been really rewarding."
Dashwood has an immense social media presence where she takes fans along on the adventure that is her life. The platforms allow the star to explore her other passions: fitness, food and travel.
Plans are being made to bring back the Taste of Tenille cooking show, which generated a regular viewership on YouTube. Perhaps this time for a traditional outlet like Food Network? She says a pitch has been written for a TV show, so you never know.
"We're talking with people now," Dashwood said. "I have people ask me all the time when the show is coming back. That makes me excited to work on that project. When I'm home I love to cook, and the evolvement of that is when I'm on the road I like to find places.
"Little dives or little local places that people like to hang out and enjoy special food or a city that is known for something I want to try it. I'm a huge foodie. I want to share that with part of my life again … I would love to have a TV show that has to do with travel, food and lifestyle.
"I have fans who have been through everything with me, so I want to give back to them and share what I'm doing more. Right now, it's about enjoying my life and balancing all that I love."
Ring of Honor Wrestling airs in syndication each weekend in the U.S. (check local listings).
You can also watch online Sundays at 10/9c on CHARGE! (http://www.watchcharge.com), Wednesdays at 11c on Stadium (watchstadium.com), on Fight Network in Canada (http://fightnetwork.com/tv/), and Mondays at http://ROHWrestling.com.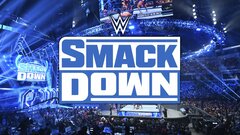 Powered by