John Krasinski & 'Tom Clancy's Jack Ryan' Cast on Why the Series Is Unlike Anything on TV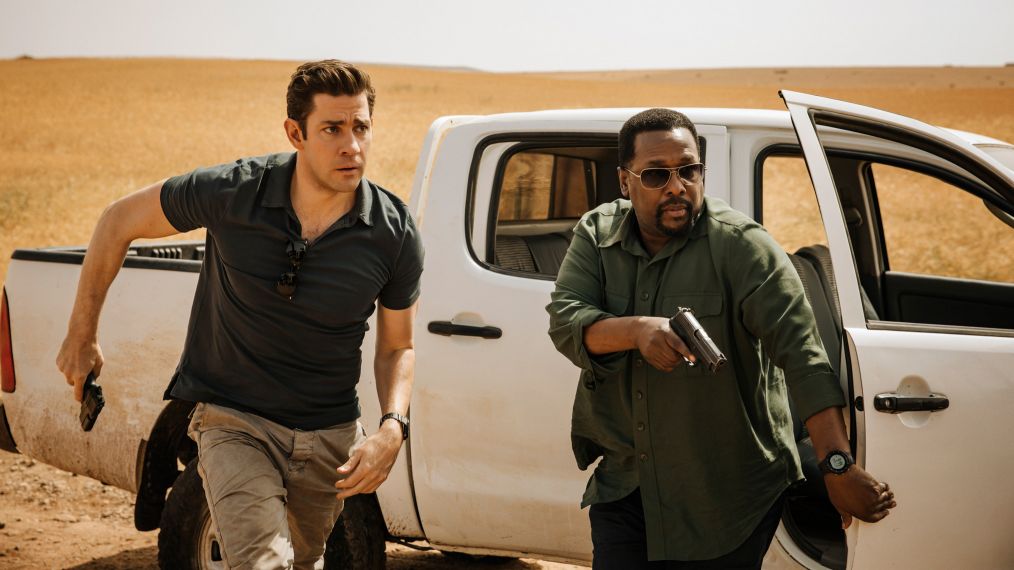 John Krasinski is as smooth as a stirred martini when asked about following in the footsteps of Alec Baldwin, Harrison Ford, Ben Affleck and Chris Pine as true-blue CIA hero Jack Ryan in Tom Clancy's Jack Ryan. "What? There have been other people who played the role?" he jokes with mock innocence of the part that originated in a series of books written by Tom Clancy.
But Krasinski is the first to portray the character on TV. The actor, who starred on The Office for nine years before focusing on movies, most recently the hit The Quiet Place, was all in for returning to television.
"When the showrunners [Carlton Cuse and Graham Roland] told me that a series was the only way to really investigate the richness and the detail Tom Clancy wrote with, I thought, 'That's a really smart and cool take,'" he says. Krasinski credits his role as a former Navy SEAL in the 2016 film 13 Hours for giving him the confidence to play an action hero — and he was more than game to run, shoot and land punches again. "I thought it was alluring to be able to play in that physical world a little longer."
Tom Clancy's Jack Ryan is a modern-day prequel to the franchise's 23 books and five movies. Former Lost writers Cuse and Roland created a new story using three redefined characters: Ryan, boss James Greer (Wendell Pierce, The Wire) and the woman who ultimately becomes Ryan's wife, Dr. Cathy Mueller (Abbie Cornish, Klondike).
"Our goal," says Roland, "is a show that is as intelligent as Homeland and The Looming Tower and as authentic as possible, but with a lot more action than most other TV shows in that genre."
The story begins early in Ryan's career, with the former Marine and stockbroker working as a lowly CIA analyst in the bowels of Langley, tracking terrorist financing.
The desk jockey discovers $9 million in suspicious transactions linked to Islamic radical group chieftain Mousa Bin Suleiman (The Looming Tower's Ali Suliman). When a CIA ops team snatches two men connected to the terrorists in Yemen, Ryan and Greer are sent abroad to a local military base to oversee questioning.
That's when all hell breaks loose. As Ryan interrogates a prisoner, an armed group attacks the base in a rescue attempt. The resulting battle — a pulse-pounding 8-minute firestorm of bombs, gunfire and hand-to-hand combat — leaves Ryan fighting for his life, but not before he makes a huge discovery that will keep him out of his cubicle and in the field. It also places him at the top of Suleiman's hit list.
As much as Season 1 is about Ryan's evolution, it also follows his equally intelligent, but merciless, antagonist. "You must know your villain," Krasinski notes. "Like with the Batman–Joker relationship, there's an understanding of where both are coming from."
His character's tragic backstory is what convinced Suliman, an Arab Israeli actor, to take the part. (Coincidentally, the actor's surname was originally spelled "Suleiman.")
"I saw Suleiman's early suffering," he explains, "his life in an orphanage in Paris, earning a university degree, then being imprisoned for protecting his brother." Although the character went on to fight in Iraq and Syria against the Americans, the actor notes,
"He doesn't see himself as a terrorist. To him, he's just helping his people."Suleiman's Achilles' heel: his family. "We aren't trying to humanize a terrorist," says Krasinski, "but we do delve into the collateral damage that is his family, which I've rarely seen [in other stories]." To that end, Suleiman's wife, Hanin (Saudi actress Dina Shihabi), becomes a major player. "Watching her husband turn into a monster deeply breaks her heart," Shihabi says. "She'll do anything to protect her three kids. That's her journey."
As for Ryan's love life, he will ultimately connect with Cathy, who has in this version been changed from the books' eye surgeon to an epidemiologist. The two first meet at a party in the premiere — her dad is his former boss — and soon cross paths again.
For more of our chat with the Jack Ryan cast and creators, pick up the latest issue of TV Guide Magazine, on newsstands Thursday, August 16.
Tom Clancy's Jack Ryan, Series Premiere, Friday, August 31, Amazon Prime Video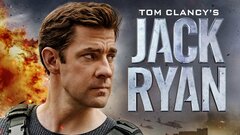 Powered by