'Jack Ryan' EPs Carlton Cuse & Graham Roland Reveal What It Took to Create the Series (VIDEO)
Bringing Tom Clancy's Jack Ryan to life on Amazon was complicated and time-consuming, to say the least.
The project, which took over three-and-a-half years to bring to the small screen at Amazon, was spearheaded by executive producers Carlton Cuse and Graham Roland. They stopped by the TV Insider/TV Guide Magazine video studio at 2018 San Diego Comic-Con and chatted with West Coast Bureau Chief Jim Halterman about the upcoming action series.
"It was a huge undertaking. It's kinda like mounting a huge feature film… it's like a eight-hour movie," explained Cuse.
"We spent the first year-and-a-half writing it. Then it took us a year-and-a-half to make it. We shot it in five cities on three continents," he added.
"We had to actually go to the places. We couldn't cheat the audience," added Roland.
Watch the entire interview below:
Tom Clancy's Jack Ryan, Series Premiere, Friday, August 31, Amazon Prime Video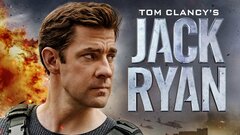 Powered by