Amazon's 'Jack Ryan' Creators on Making an Even 'Better Version' of Clancy's Story
If all of these series get do-overs, why not Jack Ryan?
Creators and Showrunners Carlton Cuse and Graham Roland (who worked together on Lost) felt the time was right to bring bestselling author Tom Clancy's hero back to life.
"We saw an incredible opportunity to do a better version of Clancy's story — as a big, eight-hour movie," says Cuse of the series, which begins at an earlier point in Jack's career with the CIA.
"Our Jack Ryan [John Krasinski]," adds Roland, "is a single, young analyst who isn't yet on anybody's radar." Unlike Krasinski, who is fresh from his critically acclaimed horror hit A Quiet Place. "He was in mind from the very beginning," Roland says. "John can be charismatic and charming but also very relatable, not unlike Harrison Ford [who has previously played Ryan twice on the big screen]."
Supporting Jack in his growth from analyst to butt-kicking field agent are two other characters from the Clancy universe: Jim Greer (Wendell Pierce) as Jack's immediate superior in the Terrorist Finance and Arms Division (TFAD) and Jack's future wife, Cathy Mueller (Abbie Cornish). The series also introduces a new face, CIA black-ops officer Matice (John Hoogenakker), whom Cuse describes as "kind of a badass."
The first season (a second has already been ordered) centers on Islamist extremism and takes place primarily between Syria and France. "This is a show where the U.S. intelligence community and the military aren't the villains, but celebrated," says Cuse. "Jack Ryan is the guy we hope exists between us and the world's chaos."
Tom Clancy's Jack Ryan, Premieres Friday, August 31, Amazon Prime Video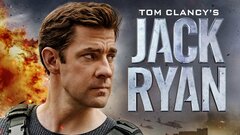 Powered by