Coming Up on 'Castle': Caskett's Back Together, and a Mini 'Firefly' Reunion Is Happening
The future of Castle remains a bit murky.
While the show was on hiatus, ABC boss Paul Lee shared that the network hoped to continue the series next year…even if one (or both) leads opted not to return. (For their part, Castle exec producers Alexi Hawley and Terence Paul Winter told TV Insider that they hope the show would continue in its current form.)
Despite the many off-screen variables, the show is back, and the second half of the season will look decidedly different than the first batch in Season 8—Beckett (Stana Katic) and Castle's (Nathan Fillion) short-lived breakup is behind them, now that he knows she only left in an attempt to protect him. To keep Castle safe, though, the duo opts to keep their reunion a secret…leading to some super awkward moments at work, as they try to convince their colleagues that they are very much split up.
To get more details about the second half of Castle, we spoke to both Hawley and Winter.
Castle and Beckett are now back together…but they have to keep their relationship on the DL. What comes next?
Hawley: The fun is they're together again, but they're hiding it. So, you get all that sneaking around fun—you get the fighting in public, the private fun.
Winter: The romance implied.
Hawley: We have some really delightful cases. We have this Pitch Perfect, competitive a cappella world. We're going into the courtroom, and actually seeing Castle testify for the first time in Castle history. We have a lot of great stuff.
What other cases of the week can you tease?
Hawley: We have an episode where a Russian national is murdered, so we get help [from a Russian] to help investigate the case, who ends up being a fun character in the way The Nose was a fun character. Then [there is an] L.A. episode [that] is great. We have a heavily Beckett-centric episode.
Winter: We also have something with English as a Second Language. Castle has to go undercover in an ESL class, as a French Canadian. And let me just tell you, it's genius.
Hawley: It's so much fun. But the story gave us the opportunity to talk about immigrants and people coming to this country in a way that we appreciated, given the climate right now.
What can you say about that Beckett-centric hour?
Hawley: It's a little bit of going home again. There's a case that brings her to the police academy in New York, where she was a superstar cadet. We get to examine how far she's come, and [there's] also a mentee character, who is a little bit like [Kate] used to be back in the day.
Winter: It's also wonderful to see Beckett see this person and see her ambitions.
And you've brought Nathan's former Firefly co-star, Summer Glau, into the mix as well. What can you say about how she comes into the story?
Hawley: We go to L.A. again, and Summer Glau comes and plays a competitive private investigator to Castle. It's so great to see the two of them working together. Once we started talking about doing this episode, she definitely came to mind. He's talked about working with her again, and obviously we brought Adam [Baldwin] back [earlier in the season]. It just seemed like a great role for her.
Alan Tudyk has also visited the set, but so far, he hasn't made it on the show. Any chance he'll be guesting?
Hawley: Yes, but he's really busy.
Winter: He's immensely busy.
Hawley: We've checked several times. We're hoping for the end of the season, possibly, if he's around.
When will you play more deeply with the show's longer mythology pieces?
Hawley: We touch on it in [Episode] 10, we touch on it in 14. We bounce off it a little bit.
Winter: [By the end of the season] we wrap it up; that's our promise to you. We will wrap up the LokSat stuff; that was always our intention and that's what we're doing.
What do you have in store for the supporting cast?
Hawley: There's the fun of them sniffing around the fact that Castle and Beckett are hiding their relationship. There's a fun relationship with Lanie [Tamala Jones]. We're lucky to have that talented supporting cast to go to.
Castle airs Mondays at 10/9c on ABC.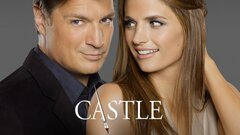 Castle
where to stream
Powered by