3 Ways 'Mr. Mercedes' Season 2 Is Even Creepier
The stellar adaptation of Stephen King's crime-novel trilogy shifts into Season 2 by jumping over the middle title, Finders Keepers, into the supernatural-infused third installment, End of Watch.
As mass killer Brady Hartsfield (Harry Treadaway) escalates his reign of terror, fans might want to buckle up. Here's why:
1. There are shades of Carrie.
Hartsfield, who drew first blood by plowing down a crowd outside a job fair in the series opener, is still comatose after fledgling PI Holly Gibney (Justine Lupe) beat him senseless. But "he starts to awaken in a way," teases executive producer Jack Bender of the madman, who shows signs of extrasensory abilities. "There are certain ways he can affect people and get them to do his bidding."
2. Obsession takes over.
Retired detective Bill Hodges (Brendan Gleeson) will "go down the rabbit hole" trying to prove something is going on with the seemingly unconscious Brady, says Bender. Thankfully, Hodges has been getting stronger following his season-finale heart attack because, Bender warns, "Bill doesn't know what's coming."
3. The Master of Horror gives it a thumbs-up.
"Stephen King loves the show," says Bender. "He realizes [this season] is different than the second book but is very happy."
Mr. Mercedes, Season Premiere, Wednesday, August 22, 10/9c, AT&T Audience Network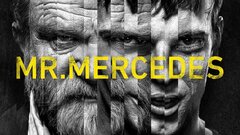 Powered by