'The Walking Dead' Star Lauren Cohan Says Maggie's Story Is 'Not Finished'
The Walking Dead star Lauren Cohan is finally discussing her pay parity dispute with AMC and her future on the hit zombie drama — and she's seemingly implying that she will return for future seasons.
Earlier this year, there were rumors that Cohan might put the role of Maggie Rhee behind her and leave TWD after a handful of episodes during its ninth season. Multiple reports stated that she was seeking equal pay with the show's male stars, and when the length of the dispute stretched for months, she booked a role in an ABC pilot. That pilot, Whiskey Cavalier, has since been ordered to series for a midseason premiere.
Some of those reports about her contract, according to Cohan's new interview, might have been exaggerated.
See Also
The showrunner revealed the news Wednesday but kept mum about casting shakeups.
"It wasn't actually that I was asking for more, it was that my contract finished," she explained to Andy Cohen on his SiriusXM show. "So that's a pretty standard re-negotiation."
The reason for her move to Whiskey Cavalier wasn't just because of the AMC negotiation. Cohan explained she felt it was time for her to explore "comedy and happier fare."
In a season that will feature Andrew Lincoln's exit as Rick Grimes, fans were likely relieved to hear her confirm her continued presence as Maggie Rhee and clarify that the addition of a comedy series doesn't subtract The Walking Dead from her projects.
"The good news for fans is that my Walking Dead story is open," she said. "It's not finished."
See Also
The nearly six-minute sneak peek reveals that buzzed-about time jump and the core survivors falling apart!
Cohan has played Maggie since the second season of the show, and has recently taken on an expanded role as the leader of the Hilltop Colony. Maggie was strongly against Rick's decision to keep Negan alive in the Season 8 finale, and seemed to be plotting revenge when the last episode concluded.
Cohan recounted some advice from a mentor of hers, who told her to stop trying to decide and do "all of it."
In her interview with Cohen, the actress compared her situation to a failed relationship, saying that after a breakup, "you don't break up with someone and forget about them and delete them from your life. No! Things transition to different places."
The Walking Dead, Season 9 Premiere, Sunday, October 7, AMC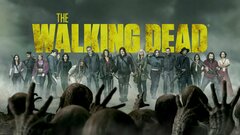 Powered by