'Jay Leno's Garage' Sneak Peek: Jay Leno & Arnold Schwarzenegger Are up to No Good (VIDEO)
Left to their own devices, what could Jay Leno and Arnold Schwarzenegger possibly get into?
Well, it seems a lot!
In this exclusive clip from a new episode of the CNBC series Jay Leno's Garage, the friends decide to take a military-grade tank out for spin and demolish a few empty vehicles in their path.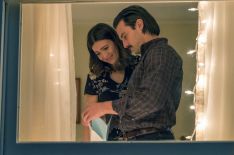 See Also
And Wednesday night has become 'Chicago' central.
"What's that limo doing in the middle of the road?" Leno asks.
"Do you want me to do something about it?" jokes Schwarzenegger.
Watch the clip below and don't miss nine all-new episodes featuring guest stars like Josh Duhamel, Trevor Noah, Tyler Perry, and more:
Jay Leno's Garage, New Season 4 episodes return, Thursday, July 26, 10/9c, CNBC