'Jay Leno's Garage': Arnold Schwarzenegger Thinks He Influenced the Hybrid Industry (VIDEO)
Fast cars and cool guest stars… what more could a retired late night host want? In the latest episode of CNBC's Jay Leno's Garage, the Tonight Show alum is joined by former California governor Arnold Schwarzenegger.
The two decide to take a spin in Schwarzenegger's Mercedes G-Wagon, which boasts an interesting modification: it's energy efficient.
"I myself have not driven an electric car because to me I don't like the way most of them look," the action star explains. "This is why I went to Chrysler and said, 'Do a G-Wagon.' And this is why I said to Chrysler, 'Next you're going to do the Hummer.'"
So yes, the Governator credits himself with the expansion of hybrid vehicles.
Check out the exclusive clip below:
Jay Leno's Garage, Thursday, Jan. 11., 10/9c , CNBC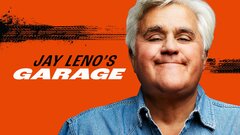 Powered by