Beyond 'The Big Bang Theory': 8 Barenaked Ladies TV Moments
These days, Barenaked Ladies are best known in some circles for singing the theme song to The Big Bang Theory.
The opening tune to television's most popular show has become a fixture at the concerts of these versatile musicians and clever lyricists: Ed Robertson, Kevin Hearn, Jim Creeggan, Tyler Stewart, and, until 2009, Steven Page. And in 2018, the band celebrates two major milestones — 30 years together and 20 since the release of their multiplatinum album Stunt.
In light of the occasion, TV Insider is looking back at their TV history. Scroll down for eight highlights.
See Also
From 'The Brady Bunch,' to 'The Big Bang Theory,' and everything in between.
1.
Early admirers included fellow Canadians. Beverly Hills, 90210's Jason Priestley got them a gig on a 1997 episode of his show (Season 7, Episode 24), performing at the Peach Pit After Dark. He then directed the video for their song "The Old Apartment," and the 1999 documentary film Barenaked in America.
Another fan, Will & Grace's Eric McCormack, makes a cameo in their video for 2000 song "Pinch Me."
2.
The rap section of BNL's 1998 chart-topper "One Week" includes a passel of pop culture references, notably The X-Files ("Watchin' X-Files with no lights on… I hope the Smoking Man's in this one"). When the band appeared on the same episode of The Tonight Show as Agent Mulder himself, David Duchovny got in on the fun during their performance of "It's All Been Done" (a song that doesn't mention X-Files but does include a Price Is Right reference). He joined them on egg shaker, and successfully rattled frontmen Page and Robertson.
3.
This year, the band appeared, in cartoon form, on an episode of Family Guy. But it's not the first time they were part of an animated Fox series. BNL tapped into the perpetual paranoia of King of the Hill neighbor Dale Gribble with 1999 song "Get in Line," originally featured on that series' soundtrack album. (It's now included on the Stunt 20th anniversary re-release.) The Ladies appear in cartoon form in the intro, then spend the rest of the song making mischief at Dale's expense.
4.
Although the comedy pilot they shot for Fox wasn't picked up, BNL garnered sitcom exposure on a 1999 episode of Two Guys and a Girl. The Ladies were featured on camera and provided between-scene musical narration for an episode called "Two Guys, a Girl and Barenaked Ladies" (Season 2, Episode 21), in which Pete (Richard Ruccolo) looks for another job. There's a cool Happy Days reference in one verse: "The Arnold's of the '90s is not where he wants to be/Aging in a pizza joint like a second-rate Fonzie." Incidentally, Fonzie's also mentioned in the band's 1994 song "A."
5.
Dawson's Creek, Friends, Scrubs, and even Homicide are among the series to have featured BNL songs. But Charmed got them to perform "Pinch Me" at their nightclub, P3, on the Season 3 opener. It's the soundtrack to Piper (Holly Marie Combs) accepting Leo's (Brian Krause) marriage proposal (though we could have done without the earlier Barry Manilow diss).
6.
The band appeared on a 2006 episode of The Apprentice, when finalist Sean Yazbeck was tasked with putting together a Barenaked Ladies charity concert. He would soon be hired by then-host Donald Trump as the Season 5 winner, but apparently the future president was expecting BNL to put on a different sort of show.
See Also
Nominated for his 51st Oscar this year, the famed film composer also left his mark on television.
7.
Barenaked Ladies have their share of fictional fans. Supergirl's Alex Danvers (Chyler Leigh) is one, and both she and then-girlfriend Maggie Sawyer sported band tees in "The Martian Chronicles" (Season 2, Epsiode 11). But the Ladies' staunchest defenders may be Troy (Donald Glover) and the Community crew, who come down pretty hard on Jeff (Joel McHale) over a slight in Season 2, Episode 15. (Actually, Stunt sold more than 4 million copies, which makes them quadruple platinum, not triple platinum, but we won't argue with Childish Gambino.)
8.
There's more to The Big Bang Theory's theme song than what's heard on each episode, and the lyrics get wittier as it goes along ("The oceans and Pangea, see ya wouldn't wanna be ya"). Listen to the song in its entirety as the Ladies make themselves at home on the set of the sitcom.
See Also
The series just wrapped Season 11 with a, well, bang.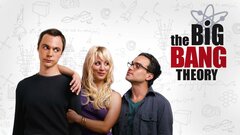 Powered by