How Did 'Code Black' End? Plus, 4 Networks That Should Save the Canceled Series
[Spoiler Alert: The following contains spoilers from "The Business of Saving Lives," the series finale of Code Black.]
On Wednesday night, CBS's medical drama Code Black wrapped its three-season run on the network , and it didn't go out quietly.
"The Business of Saving Lives" found the staff of Angels Memorial Hospital in quite the predicament after a plane crashed into the building's eighth floor. And if that sounds like chaos, that's only the beginning, with plenty of mother-daughter drama, ghosts of dead relatives, and rocky relationships in the mix.
Before a plane came crashing into Angels Memorial, Leanne's (Marcia Gay Harden) foster daughter Ariel (Emily Alyn Lind) ended up in some trouble as she hung out with rebellious teens. Ultimately, friend Joy (Madison McLaughlin) overdosed, and Ariel knew there was only one option — heading to Angels to see her mom.
Meanwhile, Willis (Rob Lowe) was still dealing with visions of his brother's ghost — all while trying to figure out his relationship with Rox (Moon Bloodgood). Mario (Benjamin Hollingsworth) and Noa (Emily Tyra), on the other hand, were dealing with their own issues after Noa got in a car accident after being drugged by Diego's (Tyler Perez) father. Talk about drama!
Despite all of the turbulence experienced in the show's series finale, fans were treated to happy endings for their beloved characters, as both Willis and Mario made grand gestures by declaring their love for Rox and Noa, respectively. Meanwhile, after being taken in by the police, Ariel declared at a hearing that she wants to go home with her "mom" Leanne, despite their recent disagreements.
But even with these satisfying conclusions, Code Black fans are hoping the show will continue on for another season. Executive producer Michael Seitzman recently voiced his take on the show's possible renewal, saying, "I do have another idea for Season 4."
Outside of CBS, there are other possible homes for the medical drama. The procedural could do well on any of the major networks, including ABC, NBC or Fox. The only issue is that all three already have similar shows with Grey's Anatomy, Chicago Med, and 9-1-1.
Out of the three, Fox might be Code Black's best option since 9-1-1 isn't set in a hospital. But streaming could also be another option for the drama, and we have seen networks like Netflix and Amazon pick up canceled shows like Lucifer and The Expanse.
And these networks should take into consideration fan engagement. Scroll down to see what viewers had to say about the show's conclusion below, and to read some messages from the cast.
LOVE MY #CODEBLACK FAMILIA…I NEVER BEEN PROUDER OF SUCH AN INCREDIBLE GROUP OF PEOPLE…THANK YOU #CODEBLACK FANS…IT WAS MY ABSOLUTE HONOR #NURSES #NURSEHOOD

— Luis Guzman (@IamLuisGuzman) July 19, 2018
i am heartbroken. the best show ever just ended. 😭😭 & it ended beautifully. i cried. god, did i cry! & i smiled like an idiot. #CodeBlack, thank you for teaching me so much. thank you for helping me learn what it truly means to be a family. and to love. and to live.

— A-Aron 😋 (@hey_itsaaronnn) July 19, 2018
If Code Black had to be cancelled, I'm glad it didn't end on a cliffhanger. #CBS #CodeBlack #CodeBlackFinale

— Skylar (@Mitchell_124) July 19, 2018
"The most important thing is to have something to survive for." Isn't that what our #CodeBlack family is? @netflix ? @hulu ? @AmazonStudios ? … I love you all forever, Dr. Savetti

— Ben Hollingsworth (@hollingsworthb) July 19, 2018
I will never understand how this show got cancelled. Hands down the best show on TV since ER. Amazing cast and writing. Next week is going to hurt 😞 #CodeBlack #SaveCodeBlack

— Michelle Croson (@mlcroson) July 12, 2018
@CodeBlackCBS #CodeBlack @CodeBlackWriter pic.twitter.com/4TmlqBRHE3

— Shirley Swanson (@shirleys1113) July 19, 2018
I love you all…#CodeBlack #FinalBow pic.twitter.com/6ng37J7wce

— Boris Kodjoe (@BorisKodjoe) July 19, 2018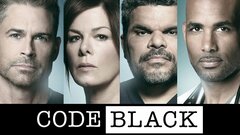 Powered by