'Code Black': Is There More Life for the Canceled CBS Drama?
It's not really going to end, right?
That's the question viewers of the CBS medical drama Code Black have been asking throughout its current season after the Eye network canceled the show in May. And yet, viewers are continuing to show up to watch the show.
Case in point, for the episode that aired on June 13, Code Black won the night with 6.2 million total viewers (it also ranked third for the week in total viewers). On June 20, it also won the night, this time with 5.7 million viewers and ranking #9 for the week. So, should CBS reconsider its decision to end the Marcia Gay Harden/Rob Lowe drama? (The short answer is YES!)
Executive Producer Michael Seitzman has been down this road to some degree before with the series, which has been a decent performer for CBS since its premiere in 2015 but never a show that would be classified as a huge hit. "At the end of every season, we've ended the season to be a story ender for everybody so there's a sense of closure not just among the audience who we make the show for but also for ourselves," he says. "The third season had the added specter of a possible cancellation, which made it more urgent for us to create something for every story that felt like an ending to some degree."
For fans watching the series, last week's episode (#309) was the start of a run of episodes that will culminate with the series finale, set to air July 18. "The events of Episode 9 set off a chain of events over the next five episodes that send our cast both in various directions and thrust together and that was the idea," Seitzman explains. "If you want to really enjoy the finale, you really have to see Episode 9 because the events of the finale have really begun for several characters."
To tease what we'll be seeing moving forward including this week's episode, Leanne (Harden) will be facing new trouble with teenager Ariel (Emily Alyn Lind) after the loss of fellow teen Max (Alex Lange) last week. Also, Willis (Lowe), who just had a heartbreaking moment with his father (David Clennon), will continue to be impacted by his family and that, in turn, will affect his burgeoning relationship with Rox (Moon Bloodgood). More stories will be twisting and turning like the relationship between Mario (Benjamin Hollingsworth) and Noa (Emily Tyra) and, as we get closer to the finale, Angels Memorial itself.
So, giving the strong showing that Code Black has been experiencing this summer, has Seitzman closed the door on a possible Season 4 should CBS reconsider its cancellation (or if another network picks it up, as happened recently with Brooklyn Nine-Nine jumping from Fox to NBC)? "I do have another idea for Season 4 and a lot of it has to do with what happens [in the finale of] Season 3."
For many of the show's fans, the story is not quite over yet and could have an ending that will surprise us all.
Code Black, Wednesdays, 10/9c, CBS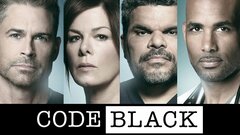 Powered by