'Young & Hungry' Sneak Peek: Sofia Finds a New Boyfriend (or Two) (VIDEO)
There's (literal) trouble in paradise for Young & Hungry's Sofia (Aimee Carrero) and Gabi (Emily Osment) this week, when one of them falls for a man in Mexico.
In the upcoming episodes "Young & Mexico" Parts 1 and 2, the girls end up south of the border when Gabi tries to come up with a last-minute birthday gift for Sofia — a vacation.
See Also
Find out what's on the menu for the last 10 episodes of the series and if a movie is still in the works.
During their vacation, Sofia falls for Juan Carlos (Jose Moreno Brooks) but ends up in quite a predicament when she tries to bring him home!
Sofia then recruits the help of an immigration lawyer who isn't so willing to lend his services. But it's not because he doesn't like Sofia — it's actually quite the opposite, as he waits out her infatuation with Juan Carlos to pursue her himself.
What will happen when this love-triangle comes to life on-screen? Check out the exclusive featurette below, and make sure to catch the episodes when they air on Freeform.
Young & Hungry, Wednesdays, 8/7c, Freeform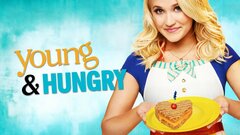 Powered by