Why 'Survivor' Fans Will Love CBS' 'TKO: Total Knock Out'
On July 11, Kevin Hart brings his unstoppable energy to television, where he'll host CBS' competition series TKO: Total Knock Out.
In each episode of TKO, five players from all walks of life take on the show's massive indoor obstacle course containing elements that executive producer Mark Burnett explains range from "crossing rickety, unstable bridges to running and leaping across moving platforms, and it's all while your competitors are trying to slow you down by knocking you off the course with huge projectiles."
See Also
The new game show, hosted by the actor-comedian, premieres on CBS on July 11.
So in a case of "us versus them," while one player attempts the challenging course, the others fire projectiles from the course's four menacingly named battle stations.
"It's an obstacle course meets dodgeball," says Burnett. "It's athletic, comedic and 100 percent fun."
Obstacle courses have enjoyed a massive surge in popularity, thanks to races like Spartan Race and Tough Mudder and TV series like Ultimate Beastmaster and American Ninja Warrior.
See Also
Burnett describes the show as 'like the Olympics for entertainment.'
It was only a matter of time before Burnett turned his producing prowess to the trend, because no one knows obstacle courses better than he does. Burnett started his TV career by producing the international Eco Challenge series before introducing his global hit Survivor with its legendary obstacle course infusion.
Survivor fans will probably find themselves wondering if they've seen some of the obstacles on prior seasons of CBS' flagship reality series, or wonder if Burnett might recycle challenges for use in the upcoming season, Survivor: David vs. Goliath, which premieres Sept. 26.
Although it's unlikely that Survivor would borrow the aesthetics from TKO's indoor arena, it would add an interesting twist if contestants in Season 37 were allowed to sabotage each other as they raced through obstacles…
And while we're talking about programming ideas that probably won't happen, but would be awesome if they did — we'd love to see Hart take on the obstacle course himself.
Hart claims that that TKO's contestants "do not have to be a five-star athlete to win," and we'd love to see the pint-sized powerhouse and fitness give it a go. His vibrant personality shines, and his enthusiasm is contagious as host, and he could definitely add some interesting commentary as he takes on obstacles including "The Frisboom" and "The Slammer."
TKO's indoor course offers the audience not only an up-close look at the race's action, but also a front-row seat for Hart's excited antics.
"Kevin is a shining global beacon of comedy, of fitness and of fun," says Burnett. "He is the perfect star for TKO, and I'm so grateful we get to work together on primetime CBS."
TKO: Total Knock Out, Wednesdays beginning July 11, 9/8c, CBS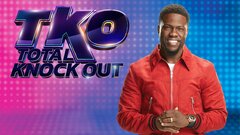 Powered by