Mark Burnett and Mike Darnell to Produce CBS Global Talent Competition 'The World's Best'
Look out, America's Got Talent. CBS is seeing your concept and raising it to an international level with its upcoming talent competition series The World's Best.
The network announced on Wednesday that two of TV's most successful and prolific unscripted programming producers—Mark Burnett (Survivor, The Voice) and Mike Darnell (American Idol, Little Big Shots)—will executive produce the new series, which is described by CBS as "a first-of-its-kind global talent competition that features acts from every genre imaginable, from every corner of the planet."
See Also
They answer to a much higher power than Hollywood. A.D. executive producers Mark Burnett and Roma Downey–who wooed 100 million viewers worldwide with their History miniseries The Bible–just wrapped Unveiled, a pilot for NBC about guardian angels, and their f...
The acts on The World's Best will not only have to impress American judges, but also break through the "wall of the world"—50 of the world's most accomplished experts from every field of entertainment, who will have their own opinions on the acts. In the end, of course, only one act will be crowned…well, The World's Best.
"The time has come to take talent competition shows to the next level and bring in judges from around the world to decide on the ultimate winner," said Burnett in a release announcing the show. "It's like the Olympics for entertainment, but you don't have to wait every two years."
No word yet on casting or premiere info for The World's Best.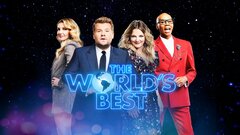 Powered by