Is the Final Season of 'Survivor' Near?
Survivor just wrapped up up its 36th season on Wednesday night, and for a show — reality or scripted — to have that type of longevity is practically unheard of and begs the question: Just how long can the series last?
Emmy-winning showrunner Mark Burnett and Emmy-winning host/executive producer Jeff Probst spoke to Entertainment Weekly about just show long they think the series can survive.
"The longevity is dependent upon viewers. But we've got the consistency of the same leadership of Jeff and Jeff's team around him. Jeff has led so well and inspired and kept the same people motivated and therefore, they just know the game exponentially," said Burnett.
"And that level of expertise in a production team is what has kept it so fresh with such great storytelling and such great characters."
Audience numbers aside, what about their own personal desire to keep going?
Probst explained in the EW piece that, "We're actually in the middle of our 19th year. We've already shot our 37th season. We're about to shoot our 38th starting in five days. So we just keep going … The audience will continue to watch so long as they believe we are continuing to try to keep the show fresh."
In the interview, Burnett also paid Probst the ultimate compliment, saying, "Survivor is Jeff. Jeff is Survivor and that's the reason the show does so well."
Which makes fans ask the question: Could Probst be replaced if he decided he wanted out?
"Obviously we're hoping Jeff stays [for Season 38 and beyond], hoping Jeff's enjoying doing it, and yeah, there's a reason that the show works so well," Burnett admitted. "It's all of [Jeff's] leadership and charisma and vision."
Probst added that, "Mark gave me a voice from day one," admitting he wouldn't host the show without it.
"I never wanted to be a puppet. I turned down lots of jobs before Survivor that were teleprompter, dating shows, walk and talk, just stuff I wasn't interested in."
Survivor, Season 37, CBS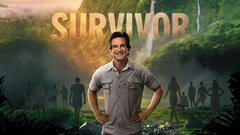 Powered by