Kevin Hart on Game Show 'TKO: Total Knock Out': 'You're Going to Laugh a Lot'
You might not think a new summer game show called TKO: Total Knock Out — where contestants run a goofy, fun house-like obstacle course while being pummeled with silly-looking foam projectiles by their opponents — embodies the power of positivity. But with comedy superstar/actor Kevin Hart running point as host, it sure does.
"TKO is about real people wanting to get the best out of themselves," says Hart, the star of box-office hits including Jumanji: Welcome to the Jungle and the Ride Along franchise, and whose comedy show, The Irresponsible Tour, is selling out venues worldwide. "It's amazing energy," he adds. "I feed off that. I love inspiration and motivation. I want to set up an obstacle course in my backyard now!"
We sat down with him at the Los Angeles headquarters of his Hartbeat Productions (where he arrived with armloads of envelopes and FedEx packages after stopping to pick up the office mail) to learn more about the wacky competition and how it became Hart's happy place.
Have you run the course?
Kevin Hart: The producers didn't want me to do it while taping the show. They're like, 'Kevin's too crazy, and we don't want nothing to happen to our host!' I let my two older kids [daughter Heaven, 13, and son Hendrix, 10] play in the Ballpit and on the Unbalanced Balance Beam. But I didn't throw stuff at them!
TKO has a dodgeball vibe. Were you good at that game as a kid?
Very good. I'm small [Hart stands 5-foot-4] and could move, so I'm a hard target, and I had an arm on me. My problem was, I hit people in the face with the ball. Yeah, I was that guy! The teacher would say, 'Hey everybody, go for the body — no faces.' And I'm like, 'Mmm-hmmm.'
What's your favorite TKO battle station?
The Frisboom. It's like a giant Frisbee. I fell in love with the accuracy.
What makes a good contestant?
A person who has no fear. This is not something people do every day. You don't wake up, go down to your local obstacle course, run it and go to work! But your everyday individual can do this. It's not about being a ninja. It's your mom, teacher, contractor, electrical engineer. They tackle it at a very high level. I watch in awe.
You're no stranger to taking on a physical challenge. You ran the New York City Marathon and signed up for Chicago in October. How's training going?
Not good. My body is like, 'Huh? Hey, when did we start doing this again? Nobody told me. Wait a minute, hold on, I want to talk to you about something.' I'm reminding my legs: This is what it's gonna be. I'm building up muscle memory.
What are your goals as a game-show host?
Engagement. Talking to the camera as if I'm with you in your living room. Making sure the audience has a clear understanding of the rules. But not just explaining it — being authentic and genuine. Me being me. Nothing's scripted.
Do you ever crack up watching the contestants get slammed?
I laugh because people are whooping their own ass. They attack without thinking or processing what they see. I'm like, 'Oh, God, sir! Don't do that. Think! Nope, he didn't put any thought into that.' We have the Grinder, which goes around in circles [like a washing machine tub]. People stand still on it. I'm like, 'No. Don't stand still, guys. She fell. She's in the water.'
Growing up, did you watch any game shows?
American Gladiators. It was amazing because it was regular people going up against the elite gladiators who were the best of the best and the biggest of the biggest! [These contestants] didn't stand a chance. When you saw [someone] who trained for it do well, you were like, 'That's amazing! Oh my God! I can do it too!' It gave you hope that you could do things.
Is that why you're proud to be a part of TKO?
I love to surround myself with people who are goal-oriented. People on TKO want to take the [$50,000] prize money and do something ambitious with it. Even if they don't win, [competing] changes their lives. They say, 'This was something I said I was going to do, and the fact that I completed it is big. I want to do more stuff like this.' Look, we don't talk about good things enough anymore. We have to personally change the narrative. How I do that is I try to be as happy as I possibly can and give people, whether my fanbase or not, a reason to go, 'Man, that's dope' and smile. That's TKO. You're going to laugh a lot. We're going to have a lot of fun.
TKO: Total Knock Out, Series Premiere, Wednesday, July 11, 8/7c, CBS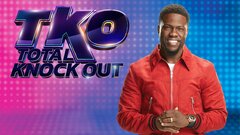 Powered by