'The Bachelorette' Episode 5: Becca's Not Impressed on 'Petty' Two-On-One Date (RECAP)
[SPOILER ALERT: This recap features spoilers from the Season 14, Episode 5 of The Bachelorette.]
As if this season of The Bachelorette hasn't been dramatic enough, the date everyone's been waiting for is here — the dreaded two-on-one. And it was with Jordan and David, AKA mortal enemies.
On the bright side, this week Becca and her suitors get to meet Wayne Newton — obvs the quintessential Las Vegas experience.
If you love intensely awkward moments and beautiful shots of casinos on the strip, this episode was made for you… but unfortunately, some of the guys didn't have much fun at all.
Here's what you missed on The Bachelorette this week:
Finally, Alone Time
Becca and Colton started the day riding camels, because what else do you do in Vegas? And then, they cozied up in a hot tub in the middle of the desert. Would it really be The Bachelorette without a hot tub date?
And along the way, there were smooches.
Bright light city's gonna set my soul, it's gonna set my soul on fire! 🎲#TheBachelorette pic.twitter.com/vJaJK1VNN9

— The Bachelorette (@BacheloretteABC) June 26, 2018
Of course, the date wasn't complete without a mention or two of Tia… and even a vague conversation about his last relationship with Olympic gold-medal winning gymnast Aly Raisman.
Was anyone surprised that Becca gave him the date rose?
The Group Date
THUD! *Feedback* 🎤#TheBachelorette pic.twitter.com/AsnmE4I7A9

— The Bachelorette (@BacheloretteABC) June 26, 2018
Becca heads out with Wills, Garrett, Blake, John, Connor, Leo, Lincoln, and Jason. Because this is Las Vegas, singing legend Wayne Newton showed up to help everyone write lyrics to their own love song for Becca. Is it just us, or is there a date like this every season?
But to make matters worse, the guys had to perform their respective songs to Becca on stage, in front of a room full of people. The guys didn't do too badly, and Chris pulled a rabbit out of his hat (pun intended) and absolutely killed it, getting the crowd really fired up.
After the performances, it came time for Becca to hand out the date rose… which went to fan favorite Blake.
The date went smoothly but the competition is starting to get to some of the men. In fact, Chris even started to doubt whether or not he should even stay in the competition at this point, which caught Becca's attention.
An Epic Failure
We knew this was going to be a disaster, but we had no idea how big of a disaster it would be. Spoiler: It's a massive one.
The two-on-one started out as a fun day spent together in the desert, riding a jeep around, but then, it came time for the Jordan and David to talk one-on-one with Becca.
David used his time to trash talk about how Jordan isn't there for the right reasons, and ultimately, that backfired on him — Becca sent him home right then and there.
"I feel like I'm back in sixth grade," she said. "This entire day has been not only frustrating, but it's taking away from our conversation and getting to know you guys and having you get to know me. This is frustrating, this is annoying, this is petty."
You knew this 2-on-1 HAD to happen. Don't miss the drama this Monday on #TheBachelorette! pic.twitter.com/wcfoOP7xrJ

— The Bachelorette (@BacheloretteABC) June 22, 2018
The surprises didn't stop there. Just because Jordan wasn't eliminated at that moment, it didn't mean that he was safe either.
After he and Becca talked at dinner, she realized there was no romantic connection between them (duhhh) and wasn't comfortable giving him the rose.
Cue the awkward walkout… and even though Jordan was bummed, it was definitely the right choice. "I do feel unique. I'm smart. I have a look. I can speak, I can walk, I'm fit. I wish I knew what she didn't like about me," he said during the ride to the airport.
Did we mention he's a model?
Desperado
During the cocktail party before the rose ceremony, Chris made it obvious that he took it very personally that Becca didn't seem to be spending all her time with him.
Remember how we said he was questioning whether or not he should stay? That didn't change one bit.
The way he behaved during the entire party was immature and cringe worthy. He interrupted Becca's conversation with Wills, told her he's falling in love, and basically begged to keep his spot on the show.
The Rose Ceremony
After this bizarre episode, it was time to say goodbye to someone. Surprisingly enough, John was sent home, and Chris got to stay. What?!
Until next week! 🥂#TheBachelorette pic.twitter.com/nL66bMQDlX

— The Bachelorette (@BacheloretteABC) June 26, 2018
We may not understand Becca's choice there, but maybe she'll figure it out on next week's episode. She and and the boys are headed to Richmond, Virginia, which apparently is for lovers. Learn something new everyday!
The Bachelorette, Mondays, 8/7c, ABC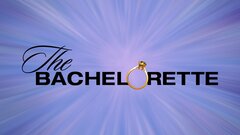 Powered by