Brie Bella Gets Candid About the Emotional Impact of 'Total Bellas' Season 3
"Roller-coaster ride" would be an accurate way to describe the first half of Total Bellas Season 3.
Brie Bella told us it was hard for her to be part of certain scenes within the latest episodes of the E! reality show, let alone relive them during live TV viewings. Many of those emotional moments involved her twin sister Nikki and Nikki's longtime love John Cena.
"It's crazy, because I know what is going to happen," she said. "I know how it all unfolds. Every Sunday night I sit with a box of tissues and a bottle of wine and cry my eyes out.
"For me as a sister — and I feel like I'm a sister to both John and Nicole — you just want to mend everything. Maybe it's the mom in me. I want everyone to be happy. I want everything to work. When it's out of your hands and your control, you can't help but be so emotional.
"There are definitely [also] great moments like seeing Bryan [Danielson] make his comeback to the ring. Seeing myself come back for the first-ever women's Royal Rumble. And my mom being the weather woman.
"Those are moments where I smile so big. With John and Nicole, it has been tough. I just have to say I give them so much credit, because it would have been easy for them to say, 'None of this can be aired. No cameras. Nothing.'
"But my sister has always stood strong, with the line of thinking of, 'You know what? I'm going to show everyone the good, the bad, the ugly, the happy, the everything. I'm not going to pick and choose. This is who I am, and you're going to see it. And if you love me, hate me, whatever it is. This is my life.'"
Watching the show has been at times therapeutic for Bella. It allows her to reassess how she approached certain situations. Maybe things she would have done differently looking back, like telling everyone her brother JJ and Lauren Garcia were expecting before they could.
"My whole family was in town, and maybe it was too many champagnes, but I thought it was great to announce their pregnancy," Bella said.
"When I watched it I was like, 'Oh my gosh! That was horrible. What was I thinking?' Then in the moment when Nicole and I are talking about John, I'm very protective over my sister. So, I think I make some very strong comments. Maybe I should have taken a step back, evaluated the situation, and did more of the grownup thing instead of lashing out."
This season sees Bella juggling the role of wife and mother while growing her clothing line Birdiebee and her and Nikki's wine brand Belle Radici.
If these personal and career demands weren't enough, Bella also was training for a return to the WWE ring and feeling self-conscious. She has appreciated the feedback from first-time parents as well as women overall, those who can relate to wanting it all and the challenges that come with that.
"I always tell my sister that there are times I'm flipping through Instagram, and whether it's certain celebrities or other people, they make motherhood look so easy," Bella said. [Daughter Birdie lets out a faint cry in the background.]
"They make getting back into shape seem like it should happen in two weeks and it's a piece of pie. I'm just like, 'No! It's not like this. This is all BS.'
"I wanted people to see someone like me struggles. Birdie is 13 months, and I still have about seven pounds of baby weight to lose. I work out with a personal trainer. I eat a little amount like I did last night for dinner but staring at the SmartPop! popcorn thinking I want to smash that. But I didn't.
"Some days are super-exhausting and I'm so tired. I wanted moms to feel that. And because of the position I'm in it was really hard for me to go back to the Rumble.
"I was insecure about my body. I didn't want to be made fun of or [read] comments on Instagram making fun of me. I really had to find my confidence. My husband really helped out. I got to the point where I was like, 'F this. Why am I embarrassed over my stretch marks or my little bell, I birthed a baby. That's warrior status.'
"I was in labor for 22 hours, had an emergency C-section. After all that happened, I didn't even get a respite. I had to start breast feeding after two hours after it. I was at a point where I thought, 'This is the rest of my life. Holy crap!' I wanted moms to see that I did lose my identity, but yes, there is a way to balance the old us and the new us."
Among the most uplifting stories on Total Bellas is SmackDown Live star Daniel Bryan's miraculous return to active competition. Despite a three-year hiatus, Bryan showed no sign of ring rust. He also maintains the same physical style fans have come to expect from the popular performer. Bella is supportive of her husband and confident in his abilities.
"One thing about Bryan is he is just so healthy and physically fit. He really knows what he can do. That's the one thing," she said.
"I do trust him with the way he moves out there and his body and what he does. I'm letting him live his dream and do what he wants because life is too short. There are times I watch and am like, 'Oh my.' At the end of the day though, he is great. He is super safe and super healthy."
Bella can see the genuine joy in the eyes of Bryan when he enters an arena to fan adulation. It's something the former diva's champion got a taste of working the historic Royal Rumble. She wants more than a taste — she wants another run.
"My husband really wants us to get pregnant again. I tell him that in my heart I just really want to come back to have a main story," Bella said.
"Whether it's a month long or two months, six months. I would love that. I think about how much work one kid is. Bringing another in, I can't imagine. My sister and I are really pushing hard. We would both love to, especially since the last couple of years it was Nikki was there or I was there. The Bella Twins really haven't had a run since the 'Divas Revolution.'
"There are great teams like the IIconics. We would love to go against them. Even if I had a one-off, I'd love to wrestle Asuka, Alexa Bliss. There are so many girls I would wrestle.
"Even with the Mixed Match Challenge. I was like, 'Bryan, we should do it if it came back. Wouldn't it be amazing?' I'm hoping. I told him to give me until next summer. Let me see if I can do something before then. If the boss doesn't want us back by next summer, we can start trying for babies."
It's a busy and exciting time to be a Bella. Along with Total Bellas on the air right now, E! extended Total Divas for an additional two seasons. The series was also nominated for another Teen Choice Award, in the "Choice Reality Series" category.
Additionally, the dynamic duo rocked the carpet at the WWE's inaugural "For Your Consideration" Emmy event. Multiple WWE programs even made the preliminary Emmy ballots, including Total Divas and Total Bellas for the "Unstructured Reality Program" category.
"It's really surreal," she said. "When we were at the event, the way everyone was talking about Raw, SmackDown, Total Bellas and Total Divas. It's crazy to think about getting recognized for something you just love to do.
"That night I was listening to Stephanie McMahon talk, and I was shocked with how long WWE has been on the air with the great storylines and entertainment every week that they put out that were never nominated for an Emmy.
"I think about Stephanie McMahon and what she has done for women, and Triple H with what he has done the last couple of years. To see that being recognized. And Total Divas and Total Bellas, who bring in this new audience to women's wrestling. Nicole and I see it as an honor to be a part of those reality shows.
"They were reality shows that at first people were so against. They thought they would ruin the wrestling business.
"No, we are going to expose it to more women out there. We are going to have more people believe and say they want to be a professional wrestler. I can even tell you since the launch of those reality shows all the women, the young girls, they come to our signings. The wives bring their husbands to tell us they never liked wrestling until they watched the reality shows.
"Now they want to go to Raw. Husbands are always like, 'Thank you. Thank you so much because we can watch wrestling in our house now.' It has been an honor to be at the forefront of that and just to see what it has done.
"It is crazy. Nicole and I, when we were there that night. We never thought we would be there hearing all this stuff. You have to pinch yourself at times."
Total Bellas, Sundays, 9/8c, E!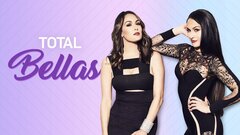 Powered by