'Total Bellas' Season 3 Premiere Offered Glimmers of Hope for John Cena & Nikki Bella (RECAP)
Ever since Nikki Bella and John Cena announced they were ending their engagement, canceling the wedding and breaking up, WWE fans wondered what went wrong. The May 20 Season 3 premiere of E!'s Total Bellas began addressing that question and many others.
The show started with Nikki and John settling into their new palatial residence in San Diego. Twin sister Brie Bella and Bryan Danielson (a.k.a. Daniel Bryan) are also settling back in California with their baby Birdie. The more Nikki (a.k.a. Auntie Coco) sees Birdie grow, she feels a connection and yearning to become a mom. John, whose career has never been hotter, remains steadfast against the idea of becoming a dad.
It's something Nikki began accepting, but she is hinting toward the opposite. By the way John was reacting even near Birdie it's hard to picture him in the parental role. But if there is one thing John apparently can't get enough of is rugs. He loves those. Never question a rug man. It's revealed that Nikki put her dream wedding plans on the back burner to make John happy with nuptials taking place in John's hometown of West Newberry, Massachusetts.
Brie is surprised sis would not do it in Napa Valley and Wine Country. To her, it's another example of Nikki sacrificing so much for John. She shows her feelings more with the feeling Nikki walks on eggshells around John for fear he will change his mind about getting married. Nikki also doesn't want to live through the nightmare of being Carrie Bradshaw in Sex and the City, left at the altar by Mr. Big.
Then comes the "Downton Abbey" when Nikki's family came over to see the new place. Discussion comes up about Brie and if she would return to the ring despite being a mom and all her other commitments. Earlier in the show the consummate businesswomen found it was hard to catch moments like Birdie's first ride on the carousel and swim lessons while she is away at photo shoots or meetings.
See Also
These Superstars of the ring put a ring on it and said, 'I do.'
Sister-in-law Lola talked of being fulfilled being a mother to Vivienne. Cut to Nikki who appears uncomfortable by the topic as a reminder of what she is missing out on with a life with John. She revealed during the confessional interview that through the entire engagement thus far out of around six months, they've shared a bed really 30 to 40 days. Despite the fancy houses, Nikki feels alone.
After watching Total Bellas there were signs pointing to the recent events. However, John and Nikki have not given up on each other while speaking about their relationship on the media trail. They were also spotted together the last few days in San Diego.
Back to the dinner, we do see some change with John's OCD nature. He allows the family to wear shoes indoors and didn't freak out after Daniel spilled water all over his suit. Would he had been as cool if it was wine or landed on one of his beloved rugs?
We don't know, but he made it clear that the home was open and free of any rules. That's some major progress.
And maybe potential proof that John is willing to change and win Nikki back?
Total Bellas, Sundays, 9/8c, E!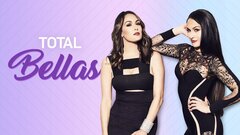 Powered by