WWE Superstar Ember Moon Ready to Eclipse the Competition at 'Money in the Bank'
The first half of 2018 has been surreal for WWE superstar Ember Moon. She reigned as the NXT women's champion and parlayed that success to Raw the night after WrestleMania.
Now the "War Goddess" is looking to add to her already impressive resume when she joins Charlotte Flair, Alexa Bliss, Becky Lynch, Natalya, Naomi, Lana and Sasha Banks in the Money in the Bank Ladder match at Money in the Bank on Sunday, June 17.
"I've been in ladder matches before," Moon said.
"I've been in TLC matches. I'm no newbie to the pain of other objects than the ring mat. I will say this does present a challenge because I'm in the ring with seven other women I'm kind of still getting to know and half of them I've never been in the ring with.
"It does present a massive challenge to me, but I do have the upper hand. I have done these style matches before and no stranger to pain. I know how to overcome that, so at the end of the day, I do have a little edge. At the same time, uncertainty is a player in this game."
As Moon embarks on another career milestone, she looks back at others this year. Among them was participating in the first-ever women's Royal Rumble. It gave her a taste of the main roster and what was to come a few months later.
"I was so thankful to be part of the Royal Rumble," she said.
"A part of what we do is taking it day-by-day. I still feel like I have unfinished business at NXT to be honest with you. So, I didn't see the [call-up] at all. I was pretty blindsided by it when they told me I was debuting on Raw. It was an amazing experience and once in a lifetime thing. My name is going to be on the first women's Royal Rumble. There are a lot of firsts to be had, but I'm glad I made it to that one.
"I feel like NXT prepared me for Raw than the Royal Rumble did. Maybe because the Royal Rumble was a different style match for women. You have a countdown and don't know who is coming out next. I think the anxiety and nerves definitely were ramped up a lot more.
"NXT basically prepared me for Raw like a fitted glove. Performing in front of the TakeOver audiences that have so much energy and being able to express who I am not only in the ring, but out of the ring as well. I think NXT does a phenomenal job with that."
Right from the start, Moon felt welcomed in the Raw locker room. She earned respect as fans and coworkers know how hard she worked to get to this point. The Texas native spent eight years on the independent scene and endured numerous tryouts before even making it to WWE. She attributes Natalya, Bayley, Banks and Bliss with easing the transition.
"Any question I've had since I moved up is always answered with open arms and smile on their face," she said.
"The women at Raw have been phenomenal to me. You have Natalya, who I've idolized since I've first started wrestling. You have so many women that have paved the way for us like Sasha, Bayley and Bliss. So many women who continually try to stay on top. Of course, that is going to bring the competitiveness within myself or anyone there.
"I think also that competitive nature brings out a certain air of teamwork too because we have a lot of firsts that are yet to happen. I think we want to continue to move this 'Women's Evolution' forward. You can't do that if someone is lazy or lagging behind.
Moon was excited when Ronda Rousey signed with WWE as she believed it would help take bring more notoriety to the women's division and company as a whole.
"Not only did she pave the way for women in the UFC, she is going to continue to do that here," Moon said.
"Working with Ronda for the first time, she is a really, really hard worker. She just wants to be good and the best. That's all what anyone wants. To me, that gives me a line of thinking that I need to step up my game. That's Ronda freakin' Rousey. The baddest women on the planet. If I can get my name just as high as that, but in WWE, the sky is the limit for me.
"There is a lot of buzz for Ronda. What can she do? What can't she do? I can tell you this from working with her on the U.K. tour and training with her a little bit before the Raw shows in the ring, she's definitely ready. She is going to pose a massive threat to Nia Jax this weekend."
https://www.instagram.com/p/BjQxgEAhgsD/?hl=en
No matter how successful Moon becomes, she never loses sight of where she came from and those who shaped her even today. Lucy Lawless, Xena: Warrior Princess, had a strong impact on the 29-year-old at an early age. From ring attire to her pre-WWE name Athena, it's not hard to see how. Moon had a chance to meet an idol a few weeks ago during a MegaCon appearance in Orlando.
"Honestly, I remember having this speech in my head: 'I'm Ember Moon. I work for WWE, and you inspired me to be who I am today,'" she remembered.
"That's all I had to say when I saw Lucy Lawless. She turned, and the heavens opened up. She brought this nice, cherry pie warmth that filled the air. She said hi, and I couldn't say a word. I was doing stuff for UpUpDownDown, and I was so thankful there wasn't a camera because I totally fangirled out for Lucy Lawless. Someone who represented strong women when I was growing up before the 'Women's Revolution' was there. Don't get me wrong. I loved strong women in WWE, especially ones who can take to the men.
"But to meet someone who influenced my childhood and who I was as a performer, I melted. You can see the photo on my Instagram. I was just so happy. I don't think I ever smiled so wide in my life. It was great.
"It's awesome to be able to do that and take step back and be a fan of something else or something you are passionate about. I imagine that feeling I had meeting Lucy Lawless was probably the same feeling when I meet these younger girls and my fans as well. That also inspires me to be more of a role model for me."
Moon wants to win Money in the Bank, the Raw women's championship, headline a WrestleMania. However, being someone, fans look up to is an everlasting goal.
"I want to continue being a role model for those people out there who are doubting themselves," she said. "I want to continue to grow my fan base and prove to the world I'm worthy of their love."
WWE Money in the Bank, Sunday, June 17, 7/6c, WWE Network and Pay Per View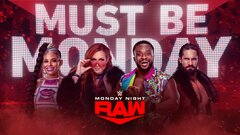 WWE Raw
where to stream
Powered by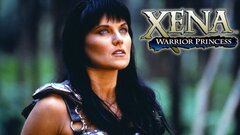 Powered by