Is 'SmackDown' Moving From USA to Fox? What This Could Mean for the WWE
Not long after Fox Sports signed a major deal to be the new home for the NFL's Thursday Night Football franchise, it appears that Fox is also making a huge acquisition within the realm of sports entertainment.
Fox is said to soon become the new network for one of the WWE's major shows, SmackDown, following a new deal expected to be near completion and which would take effect in October 2019, according to reports Monday from The Hollywood Reporter and The Wrap.
See Also
The big question: Will Fox get better games or get rid of those hideous color rush uniforms?
Sources have told THR that the deal is a massive, billion-dollar, five-year agreement worth $205 million per year — a three-fold increase over what NBCUniversal is currently paying to air the WWE hit on USA Network.
The Wrap's source indicated that the show will be shifted to Fridays on Fox, though WWE and Fox Sports declined comments to The Wrap about the report. SmackDown currently airs Tuesdays on USA.
While WWE's Monday Night RAW juggernaut (which will still air on USA) is still the primary face of WWE on television, SmackDown continues to be a ratings star among cable competition, and it is still a key part of the wrestling company's TV presence, even if it has juggled networks over the years.
See Also
We learned what went wrong with the WWE power couple's relationship, but also that it might yet be saved.
Since its debut in 1999, SmackDown has been seen on the now-defunct UPN network and MyNetworkTV, as well as on The CW and even Syfy, before moving over to USA Network two years ago to consolidate the WWE programs on one network.
The move from cable back to a broadcast network like Fox could mean even more visibility for SmackDown, and for WWE as a whole, both of which are already highly viewed and popular.
It will also be interesting to see if there still remains the sort of synergy that takes place among the various WWE franchises, especially sister series RAW and SmackDown, now that one of those tentpole shows will be on network television.
See Also
These Superstars of the ring put a ring on it and said, 'I do.'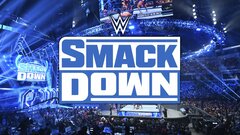 Powered by