'Nailed It!' Host Nicole Byer Talks Season 2, What Makes the Show Special & More
Admit it: You love it when baking show contestants fail spectacularly — when the fondant falls apart, the marzipan melts and the cookie crumbles. Those delicious disasters are the key to the popularity of Netflix's Nailed It!, a twisted competition in which amateurs try to re-create impossibly complicated confections, to hilarious effect.
To see the results of the unicorn cake challenge — one of the new episodes streaming Friday, June 29 — is to know the meaning of diminishing returns.
See Also
The 'Sense8' series finale, 'Luke Cage,' 'GLOW' & more are arriving this month.
"The things people make are so amazingly bad that they're good," says host Nicole Byer, who, along with celebrity chocolatier Jacques Torres and various guests, also passes judgment on the taste and appearance of the show's frosted dumpster fires. Which begs the question: Is she rooting for the contestants or secretly hoping for a dud?
"I just don't want anything in the middle," she says. "I want to go, 'Oof, you failed so magnificently!' Or I want something so amazingly perfect that we're like, 'Wow!'"
The menu features more than just dessert this season. Contestants will also have to craft elaborate snack platters and mind-bendingly intricate pancakes — shaped like other foods! Watching these frantic, frustrated home cooks makes you wonder why they would put themselves through this.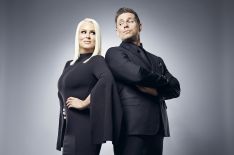 See Also
Plus, find out which of your other favorite shows are coming back next season.
"Because people are very cocky," Byer theorizes. "People in this day and age look at something and go, 'I can do that better.' Everyone thinks they can do everything, and that's just not true."
She would know. She was recently asked to replicate one of Torres's famed cookie houses for a talk show, and it went about as well as you might expect: "The cookie exploded in my oven," she confesses. "Can't tell you how that happened."
Surely there's a lesson to be learned from the misbegotten baked goods on Nailed It! "You gotta put in the work," Byer suggests. "To make good cakes from scratch that are delicious, that look beautiful, you gotta put in the hours."
And after she puts in the hours tasting sweets all day, Byer has found a unique approach to palate-cleansing: "I eat a big bowl of vodka."
Nailed It!, Season 2 Available Friday, June 29, Netflix