'The Originals' Faces More Tragedy, and It Will 'Get Worse Before it Gets Better'
Spoiler alert! Do not read further if you haven't watched the latest The Originals episode.
The Originals returned with tragedy all around.
In theory, the Mikaelson had a bit of good news: Even though Cami (Leah Pipes) died in fall finale, she was actually compelled to drink blood before she slit her own throat, so her tragic end was short-lived. But she's now a vampire—a transition she never wanted to make.
"I think, thematically, Season 3 is about people who come into the orbit of this family are just as cursed as the family," The Originals executive producer Michael Narducci told reporters. "We see that manifested in Tristan, Lucien and Aurora, and how messed up they are because of their interaction with the family. We see that how Hayley is getting messed up by being close to this family. Cami is being messed up by being close to this family. What's in store for Marcel, Davina, for baby Hope as part of the family—nobody's safe."
Nobody is safe proved all too true when another character ended up really dying: Hayley's (Phoebe Tonkin) husband, Jackson (Nathan Parsons). "Everybody went into the episode thinking, 'Gosh, I hope Cami is not dead.' And not expecting they had to worry about one of their other favorite characters not making it through the episode," Narducci said. "Even in the midst of life, we are in the midst of death. God giveth, and God taketh away. Those are the emotional responses we wanted to get out of this. Yes, Cami managed to find a way to survive, but we lost somebody else. It's going to get worse before it gets better."
RELATED: Here's What Happened on The Vampire Diaries
For Hayley, the grief over losing Jackson is going to be a long process she has to work through. "I think Phoebe is a beautiful, amazing performer, and she will show you that grief in upcoming episodes," Narduccci shared. "She will show you the natural inclination of someone who has lost someone close to them, to rely on the strength of the bonds that she has with the living." And this grief will also lead her to lean on some surprising people. "We'll see a burgeoning friendship with her and someone whose name I cannot say," Narducci teased. "We'll also see some really beautiful scenes between her and Elijah in the aftermath of this; him trying to comfort her, her wanting to accept that comfort but knowing it's wrong, given their past, given the feelings they have for one another." Just don't expect her to stay grieving for too long. "Ultimately, once the dust settles and she manages to be through with her grieving, a pretty definitive and harsh response on her part to get back at those who are responsible [for Jackson's death]. That's a very empowered character I like watching."
While Hayley navigates her life post-Jackson, Cami will be trying to find her new normal as a vampire. "We've explored transitions on Vampire Diaries," Narducci noted. "We've seen on our show, Josh [Steven Krueger] was made into a vampire; he reacted in a certain way. Hayley was made into a vampire; she reacted a certain way. [She] started to get closer to her wolf side, and dealt with becoming a vampire by turning into a wolf and running into the woods and killing witches and embracing that savage side of herself."
But just how dark will Cami go? "Cami is someone who has some dark impulses; we've talked about that's what led her to be fascinated by psychology and to be fascinated by Klaus," he continued. "Maybe those are some of the reasons she stayed in New Orleans to begin with. And now that that side of her is heightened by being a vampire, maybe that's something she's going to want to explore…slowly there's an equilibrium. I don't think Cami's final character place is going to appear right away. I think she's in for a long transition of discovering who she's going to be."
Which means fans will see a side of Cami they're definitely not used to. "I think she's going to swing in the way of exploring her impulses, embracing the newfound power she has," Narducci shared. "I think she can be very good. If we're talking about morally, she's still going to love the people that she loves. She might be more inclined to take what she wants, because she can. She might be less inclined to be afraid of the people who are stronger than her, because now she's going to have power. I think she's always been crafty and kind, and will continue to be so. She knows there are enemies out there, and she's going to want to deal with them and not play any kind of victim card; be a little more physical and relish in being a vampire."
Klaus, who was desperate to make sure she turned, will be the one key person on her side. But his support not be a good thing. "I don't think Klaus is genetically engineered to be a good influence," Narducci said. "We're talking about morally good…what's good for Cami as a vampire might not be what you and I believe to be good in terms of truth, justice, and the American way. Sure, I think he will be a good influence on her in terms of things like how to feed and how to compel. Is he going to be worried about her slaughtering her way through an orphanage? Well, maybe he will be, because he knows that's not who she is, and maybe he doesn't want her to deal with the decades of spiraling that would come from committing an action like that." Narducci continued, "But I also think that he's not going to say, 'Now, Cami, I think you should be a on steady diet of rabbits and deer, because that's what's morally correct.' That's not who Klaus is. There's a chance that this path might bring out the worst in both of them."
As for another storyline: The Original family was able to trick Tristan (Oliver Ackland) into a crate—which was then lowered to the bottom of the ocean—but that might not be the last time he'll be seen. "I think there is a certain element of the Mikaelsons that is cruel and vindictive and enjoys lowering an enemy into the ocean so they can drown again and again and again for all time," Narducci allowed. "[But] sometimes being very vindictive bites you in the ass."
In the aftermath of that, "we'll see some people who are [of the mindset that] the Mikaelsons are the problem," Narducci said. "The Mikaelsons came to this town and they spoiled everything. How are we going to respond and how are we going to put the Mikaelsons in their place." As a result, don't be surprised of shifting alliances when former allies turn on the family while, on the other side of the coin, others will "firm up their alliance with the Mikaelson family because they know they should; they tend to win, so it's a good thing to maintain alliances. You don't want to be their enemy, necessarily…now that Marcel is in charge of the Strix, he's going to be put in a difficult position."
And finally, don't count out Davina (Danielle Campbell), who found herself shunned in Episode 7. "She disappeared and we wanted her to disappear so we would have a sense of [what it was like to] be shunned," Narducci said. "She's almost a homeless teen…but now she's going to make a comeback in a big way."
The Originals airs Fridays at 9/8c on The CW.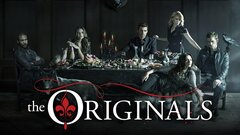 Powered by