'The Vampire Diaries' Teases What Happens When Damon Escapes 'Hell,' and Who's Third Wheeling Steroline
Spoiler alert! Do not read further if you haven't watched the latest The Vampire Diaries episode, "Hell is Other People."

On The Vampire Diaries Damon (Ian Somerhalder) finally escaped the Phoenix stone, but at what cost?
While trapped, Damon was forced to relive the same traumatic personal Hell on Earth over and over—and telling his mother, Lily (Annie Wersching), all the moments he's regretted in the process—until he was broken. When he did finally escape, all he wanted was more time to say goodbye to her, thinking it was another dream he could reset—but all he ended up doing was to lash out physically at the people closest to him.
RELATED: Caroline Dries Address the New Vampire Diaries Move to Friday
Speaking to reporters, executive producer Caroline Dries revealed, "Even though Damon has escaped Hell, so to speak, and figuratively left there emotionally and psychologically, [he's] a changed person. And the decisions [he] makes as a result of that don't necessarily reflect the decisions [he] would have made before being there."
"What we get to see in the next episode is that Damon really, really, really messed things up," Dries continued. Even though Stefan (Paul Wesley) "had his own journey that we didn't get to see," it wouldn't be in "the same way we saw with Damon. We're trying to create a bit of intrigue that Stefan has survived it, and Stefan's learned some lessons from it, but can Stefan warn Damon in time of what it means to actually get out of there?"
Speaking of family, the Heretics, Lily's new "clan" that split their loyalties after her death, were absent from the hour. "It will actually be pretty interesting, the way the chips fall with the Heretics," Dries shared. "Lily's death basically dropped a bomb in the Heretics family, and they basically dispersed into their own lifestyles." Mary Louise (Teressa Liane) "was a little intimidated of the new world and wanted to stay home and live their traditional life," which is something that Bonnie (Kat Graham) "will eventually exploit as they all become interested in the same thing."
As for Nora (Scarlett Byrne), she "always wanted to see the greater [world and] what else is out there," Dries said. "Nora started to show other layers of her personality. She's still a villain because she's a little bit selfish and reckless." Despite this, she's still considered likable because of her similar vulnerability to Rebecca (Claire Rhiannon Holt). As a result, Nora may soon be "a part of the hero group, which will make Matt uncomfortable," Dries added. Even though Matt is "trying to stay staunch, anti-vampire and protective of the town, he's continuously trying to justify his friends are vampires, and there are good vampires, so the Heretics start to pull at this belief system."
Elsewhere on The Vampire Diaries, for those shipping Stefan and Caroline (Candice King), a third wheel popped up: Valerie (Elizabeth Blackmore). "She has become this third wheel in the Caroline-Stefan relationship. Not because she's prying into their relationship, but as a default, because they've been needing her and her magic," Dries pointed out. "She genuinely cares about Stefan, genuinely cares about what Caroline is going through with these babies, so she's become this accidental third wheel, which will evolve into a bigger friendship with Stefan and Valerie, leaving Caroline to be like, 'Where did my boyfriend go?'"
Looking ahead to future episodes, another character, Matt Donovan (Zach Roerig) that fans "haven't seen yet in the flashforwards" will be revealed, Dries teased. "We'll start to understand why we haven't seen him yet, and what's going on with him three years in the future." And speaking of that time jump, the series will catch up to the time jump by season's end, and "we'll slowly but surely start to piece together the mythology," Dries said, including "why that [sword and stone have] been the spine of the season."
The Vampire Diaries airs Fridays at 8/7c on The CW.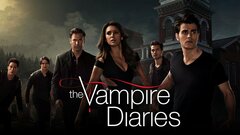 Powered by