'The Originals' Is Back With Klaus on a Rage—and Looking for New Alliances
The Originals ended 2015 on a bloody note, as Klaus (Joseph Morgan) woke up after a night with Cami (Leah Pipes), to find her lifeless besides him.
"The moment, at the end of Episode 9, when you see Klaus holding this woman in his arms, and her throat is cut open, and she's bleeding everywhere, he's about as angry as we've ever seen him," The Originals executive producer Michael Narducci told reporters. "He's the one who kills people's loved ones; he's the one who destroys his enemies and tears them apart and ruins their lives. Now someone has done that to him."
"And in a sense, it's his fault. Cami was targeted because she's close to Klaus," he continued. "There's a certain element of rage, and there's a certain element of guilt that he must feel. That might be when Klaus is at his most dangerous—when he wants revenge and wants to take people down for what they've done to him. We'll see a little bit of that going forward. A little bit of Klaus off-balance, not sure who he can trust, and very angry."
RELATED: The Vampire Diaries on Damon's 'Custom-Made Hell'
But an angry Klaus is a Klaus who needs allies. And his newfound rage—and desire for revenge—will lead him to familiar faces. "In addition to him being paranoid and neurotic—that's going to reach its zenith—we're going to see him have to mend bridges he's fallen out with," Narducci said. "And I think the big one on that list is Hayley. At the end of Season 2, he participated in Hayley being cursed and turned into a wolf; she spent six months away from her daughter. It feels like, ultimately, in order for this family to heal, Klaus has to heal his wounds with Elijah and heal his wounds with Hayley. And that's something we're going to play with going forward."
As Klaus tries to center himself, the world around him will only get more chaotic, as the losses pile up. "I think for us [is] the transition is the end of the first chapter, the arrival of these three sired vampires in town," Narducci said. "They have executed their plot against the Mikaelson family. There has been a serious casualty. Before long there will be more casualties."
"There will be a game-changing shift in who our enemies are, and starting with the next episode, what their plan is and how things are going to escalate very quickly," he continued. "And who is going to be siding with whom against the Originals. And so our family, who started off the season very much at odds, is now backed into a corner together against this new threat. And some of the people we thought were our allies and our friends might not necessarily be [on the Originals' side]."
But less of a threat? The Originals' move to Friday nights. "I don't think it changes anything," Narducci said. "We go to work every day, we sit in that room and we try our best to write the best story possible—to write the stories that our production team can create, in the quality we expect that make our actors happy and want to perform and tell great stories. That's true if it's a story on Thursday or if it's on Friday, or if they're downloading it five years from now…it's all just, do the best job that you can, and let the chips fall where they may."
The Originals airs Fridays at 9/8c on The CW.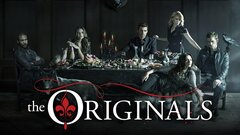 Powered by