Amy Adams Talks the Pressure of Her 'Sharp Objects' Role & Doing More TV at ATX Festival
[Warning: This post contains minor spoilers about Sharp Objects on HBO.]
Ahead of the premiere of HBO's limited series, Sharp Objects, adapted from Gillian Flynn's best-selling book, TV Insider spoke with the show's star and first-time executive producer, Amy Adams, outside the Paramount Theatre at the 2018 ATX Television Festival.
The Academy Award-nominated actress admitted Flynn's rabid fan base and the pressures of turning a book into a TV series didn't intimidate her.
"I really think about it until right now. So now, I feel a lot of pressure but it's done," she joked. And when she first read the book a few years before she starting on the project, she never thought she'd be in the lead role of Camille Preaker, a journalist who returns home to a fictional Wind Gap, Missouri to investigate the murder of a preteen girl and the disappearance of another.
Luckily, the novel was great source of guidance — "[I would] highlight and bend pages," she shared — plus, more in-depth conversations with Flynn and showrunner Marti Noxon (UnReal, Buffy the Vampire Slayer, Dietland) helped her flesh out the role.
This twisty-turny, dark story has received a very different treatment from Flynn's other two books, both which were made into feature films (the Charlize Theron-starring Dark Places and blockbuster hit Gone Girl, with Ben Affleck and Rosamund Pike).
"It was fantastic [to do TV]," revealed Adams. "I really like expanding a character and developing her over eight episodes. It gives you a much more rich history."
Adams felt a deep connection to her character Camille, and thinks she's actually more relatable than people would first assume. "I think a lot of people, especially women, can relate because a lot of time, as women, we don't explode with our pain, we implode," she mused. "So we take it out on ourselves and that's something that I really relate to is having that sadness or pain or depression. [It's] something that's very private and internal."
Having an unlikable character on the page was Flynn's goal when writing the book "on nights and weekends" over a decade ago.
"No one wants to hear about women we can't root for," she admitted during the ATX panel after the screening. Flynn was navigating uncharted waters by exploring women who are "anti-heroes."
It most certainly paid off, as she was joined onstage by Adams, Noxon, director/executive producer Jean-Marc Vallée (Big Little Lies), executive producer Jason Blum, HBO programming head David Levine, and Pancho Mansfield, president of global scripted programming on Television eOne.
Noxon agreed that there wasn't "a robust collection of complicated female lead roles" on TV or in movies, so she's spent the "last four or five years taking women-centered projects that aren't supported and getting them made."
The road wasn't easy though. The project floated around for years and kept being pitched as a movie, revealed Blum, who got the first phone call about the project almost eight years ago. It was Noxon who first suggested it be made into a limited series because of Camille and her complicated story. She even wrote the pilot episode "to set [the] intention and tone" of the series.
"Television is in a renaissance," added Adams. "It's a great place for stories — especially this story." And she absolutely wants to do more small-screen projects, along with producing.
The panelists also spoke about the creation of Wind Gap, Missouri. The series' town needed to feel specific and Flynn wouldn't settle for anything else because she lived in this type of place and knew it too well. The town shapes its inhabitants, and vice versa.
Obejcts' exteriors were filmed in Georgia but Camille's mother's Victorian house was found in San Francisco, though the house's interior shots were on a stage.
Vallé, who's French-Canadian, explained he wants his projects to be overtly American, especially this one with it's Main Street, USA vibe.
He then complimented Adams on her commitment to the character. She would spend up to three hours in makeup for the scarring on Camille's body. Adams joked Vallé was so precise and detail obsessed he wouldn't let her "fake-drink" with water. She needed to drink dark liquids to make it real. Vallé didn't want to hide anything from the audience.
Sharp Objects, Series Premiere, July 8, HBO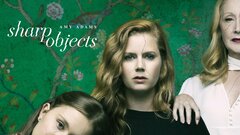 Powered by