Gotham's Fifth & Final Season Will Likely Be Much Shorter (VIDEO)
Fans of Fox's Gotham already know that the network has decided to end the series with a fifth and final season, but one star is teasing how many episodes they can expect.
Camren Bicondova, otherwise known as Selina Kyle on Gotham, spoke candidly to fans via Instagram Live about the upcoming episodes, revealing that Season 5 will be shorter than previous ones. "We were picked up for 10 episodes," Bicondova answered one fan through the social media live stream.
Bicondova also revealed when the final season will likely air in the U.S., tentatively saying that fans can anticipate a January 2019 premiere. Despite fan efforts to keep the show going, Bicondova also said that Season 5 is still Gotham's final season.
Initially, fans believed the fifth season may be 13 episodes, as it is listed with that number on IMDB. But Bicondova's revelation is certain to have an impact on viewers.
When one fan asked if the show would be longer than 10 episodes as she had previously stated, she said, "if it is 13 episodes, I'm just saying the information I was given — I was told 10 — maybe it's 13, I don't know."
See Also
Plus, he teases a 'cataclysm' in the 'epic' episode.
Gotham usually has 22 episodes per season, so if Bicondova's information is accurate, then that would mean a season with less than half the usual episodes. Of course, Bicondova's aren't the final words when it comes to Gotham's last season, but this info is sure to intrigue fans.
Hopefully, Fox will confirm or deny this statement so fans have a clearer idea of what they can look forward to.
For the statements made during Bicondova's Instagram Live, see the video below.
Gotham, Season 5, Coming Soon, Fox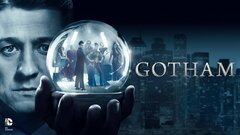 Gotham
where to stream
Powered by