'Gotham' Star Cameron Monaghan on His Character's Endgame in the Season 4 Finale
Forget Las Vegas. The wildest Jokers are in Gotham, where the late Jerome Valeska and now his twin brother, Jeremiah — both played by Cameron Monaghan — have been the closest thing the Fox hit has gotten to DC Comics' classic Clown Prince of Crime.
As Season 4 races toward its climax, Monaghan opens up about his brother act and what Jeremiah's rise means for the Dark Knight in training.
When did you learn that Jerome was going to die and Jeremiah would take over?
Cameron Monaghan: I had pitched a story line at the start of this season that the producers decided not to use. But they got certain ideas from it, came up with their own thing, then sat me down and talked me through it. So I had known from pretty early on about the twin and his transformation into someone very Joker-like.
How does Jeremiah compare to Jerome?
He's much more calculating. Jerome was extremely brash and violent. Jerome was a chain saw; Jeremiah is a scalpel. And he's going after not only the city, but also Gordon [Ben McKenzie] and Bruce [David Mazouz]. Jeremiah wants to hit them where it really hurts.
Which is their loved ones, right?
It's their loved ones, it's everything they care about — their life, their legacy and the city they live in. He's genuinely scary!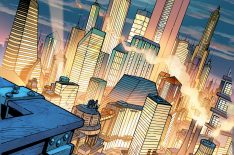 See Also
Superman's favorite city is getting the prequel treatment for DC's digital platform.
What is his endgame?
To turn Gotham into his own labyrinth, his own twisted kingdom. The first step is to blow up buildings so they fall and make the entire city into one of his elaborate mazes, essentially.
Obviously, he'll need help for that. Who does he recruit?
He forms a partnership [before the finale] for his ultimate plan to take down Gotham. There's a cataclysm happening across the entire city, and we'll see all of the story lines pushed together in a really epic season finale.
Gotham, Season 4 Finale, Thursday, May 17, 8/7c, Fox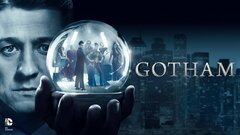 Gotham
where to stream
Powered by