'Shadowhunters' Cast Blindsided by Freeform's Cancellation — See Their Reactions
Like so many shows before it, Freeform's fan favorite Shadowhunters was canceled Monday, as Freeform announced that Season 3 would be its final run, wrapping in 2019.
The announcement surprised fans, so it's not shocking to learn that the cast was just as blindsided. Star Katherine McNamara, who plays Clary, wrote a heartfelt note to fans, revealing that she and her co-stars found out the news at the same time.
McNamara tweeted:
"We just found out too — and believe me we are as shocked as you. Truly, this show has been a treasure. Playing Clary has been an honor and a joy… thank you for entrusting her to me and coming on this journey with us. Thank you to the cast, crew producers, directors, and creative teams involved in making the show so special. I have learned so much from each and every one of you and I will cherish the memories of making this series for the rest of my life.
"Every person who has been a part of Shadowhunters has touched my heart in a way that I cannot even begin to describe," she continued. "The love this fandom has for the source material, the show, the artists, and for each other is a force to be reckoned with like nothing I have seen before. No matter what happens from here, I promise you this. By the angel, will make you the most rock solid, bad ass, magical finale you could imagine."
McNamara isn't the only Shadowhunter speaking out. See what the rest of the cast had to say below:
Hail and farewell, Angels… 🖤 #Shadowhuntersthefinalhunt @shadowhunterstv pic.twitter.com/ak8XLUxju4

— Katherine McNamara (@Kat_McNamara) June 5, 2018
But also… #SaveShadowhunters pic.twitter.com/Igi00MSJMB

— Katherine McNamara (@Kat_McNamara) June 5, 2018
Don't forget, angels, our journey is not over yet. We still have 12 episodes to go and more story to tell. We'll share BTS photos, live tweet, and much more. Thank you for your love and support! Together we'll make this memorable. x

— Katherine McNamara (@Kat_McNamara) June 5, 2018
All good things come to an end. It has been my privelidge to be a part of this world. @ShadowhuntersTV team have been so close to my heart for 3 years. You. The fans. Make us happy and strong and proud. Thank you. For everything. We say goodbye with a heavy heart but our heads…

— Dominic Sherwood (@DomSherwood1) June 5, 2018
…held high. We love you. Forever and always. Xx

— Dominic Sherwood (@DomSherwood1) June 5, 2018
It has been an absolutely wonderful experience getting to be part of Shadowhunters for the past three years. After all of it, I hope I have fulfilled my promise of being the best Alec Lightwood you could ask for. Look out for the great work this crew will be doing out of

— Matthew Daddario (@MatthewDaddario) June 5, 2018
Toronto in the future, and look out for the great work from @FreeformTV, @Kat_McNamara, @DomSherwood1, @arosende, @EmeraudeToubia, @HarryShumJr, @isaiahmustafa, @mattdirector, @WainwrightAE, @DavidLCastro_, @alanvansprang, @willtudor1 and obviously whoever I'm leaving out

— Matthew Daddario (@MatthewDaddario) June 5, 2018
because typing in these names of amazing actors is overwhelming. And don't forget! There are more episodes to look forward to on @FreeformTV! There will be many more #shadowhunterschat full of my… sane and organized commentary… and, I'm certain, a fantastic finale!

— Matthew Daddario (@MatthewDaddario) June 5, 2018
We have a full final season you should all watch that will make you cry, laugh and feel entirely and absolutely emotionally and professionally satiated for eternity… Also pictures of birds! What more could you want! Thanks to you all for your amazing

— Matthew Daddario (@MatthewDaddario) June 5, 2018
support. I can't thank you enough for the ride. #akucinta…

— Matthew Daddario (@MatthewDaddario) June 5, 2018
We love you all!! Thank you ❤️ pic.twitter.com/AKvAQpYn9l

— Emeraude Toubia (@EmeraudeToubia) June 5, 2018
Not ready to say goodbye … Xo

— Emeraude Toubia (@EmeraudeToubia) June 5, 2018
First, I want to say thank you to the INCREDIBLE fans from all over the world! This has been an amazing journey being part of @ShadowhuntersTV & to have the opportunity to play the incomparable Magnus Bane. I am so proud of our magical cast, crew & writers for 3 wonderful seasons

— Harry Shum Jr (@HarryShumJr) June 5, 2018
We still have 12 episodes left to finish what we started on @freeform & @netflix. You all have been so supportive and it's been inspiring to read your tweets, comments and letters pouring your hearts out on how much the show means to you. I am honored to be part that.

— Harry Shum Jr (@HarryShumJr) June 5, 2018
Thank you. Thank YOU. THANK YOU. I LOVE YOU ALL. pic.twitter.com/3uCQfcLxHP

— Harry Shum Jr (@HarryShumJr) June 5, 2018
One Love #SAVESHADOWHUNTERS

— Harry Shum Jr (@HarryShumJr) June 5, 2018
Shadowhunters, Tuesdays, 8/7c, Freeform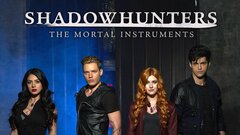 Powered by