'Goliath' Premiere: Billy Bob Thornton Talks New Characters in Season 2
New crime, new foes, same Billy.
When Amazon's Goliath returns, hangdog lawyer Billy McBride (Billy Bob Thornton) — fresh off his victory in the Borns Tech wrongful death lawsuit — is content to stay far away from the courtroom.
Then a friend's son is arrested for a double homicide, which drags Billy back to work. Thornton, who took home a Golden Globe for the role last year, briefs us on the drama's sophomore round.
Where is Billy when the season starts?
Billy Bob Thornton: He has money. Just like me, money doesn't change him much. [Laughs] He likes to stick close to his own neighborhood and bar and do all the same monkey business. He's not really any happier, not really any more used to the way the justice system works.
Rosewood's Morris Chestnut joins the cast this season as a rival attorney, while Ana de la Reguera (Narcos) plays a mayoral candidate. Tell us about them.
Morris I love. I always hate it when your adversary is a really nice person! [Laughs] There was a murder case mentioned in Season 1 where something went wrong. Morris was at the firm I went up against—he has that to lord over me. Ana and I, we have a real chemistry. What's great is, if her character's doing anything like backhanded politics, she still does it in a way that's charming. It's really effective.
Is Billy still at odds with his reluctant colleague Patty (Nina Arianda)?
We're buds now. We have spats, but it's not anything like last year. This case takes off, and we have to get down to business. She has a lot of scenes without me, which shows our true partnership: I trust her and she wants to do it.
Are you hoping to do more Goliath?
If we look at these two seasons and go, "Oh, we do have something to say," we'll continue. And if we don't, you don't want to push it. We'll see if there's more in us.
Goliath, Season 2 Premiere, Friday, June 15, Amazon Prime Video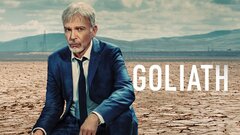 Goliath
where to stream
Powered by