Roush Review: Amazon's 'Goliath' Takes a Confident Approach in Season 2
He'd rather drink than fight, but beach-bum lawyer Billy McBride (Billy Bob Thornton), reprising his charismatic Golden Globe–winning performance) just can't resist a good hard-luck appeal in Goliath.
Taking a reluctant break from literally throwing away the fortune he earned after facing down a corporate giant in Season 1, Billy takes on adversaries who are even more daunting and disgustingly twisted this time around.
Like Amazon's Bosch, this L.A. crime story is satisfying in its confident approach to a familiar genre. The bonus here is its broad streak of offbeat humor in Billy's laid-back cunning, which contrasts nicely with the brash impatience of his sidekick, Patty (Nina Arianda). They take on the case of a friend's teenage son, framed for a drug-related double murder that, naturally, isn't as simple as it looks.
Before long, Billy and his team (including James Wolk, amusing as an FBI agent besotted with Patty) tangle with a Mexican cartel. They also uncover corruption within the LAPD and a mayoral campaign, whose deep-pocketed donor (Mark Duplass) harbors a stomach-churning fetish. Go get 'em, Billy.
Goliath, Season 2 Premiere, Friday, June 15, Amazon Prime Video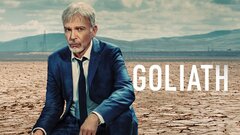 Goliath
where to stream
Powered by